Susan Brook Interiors
Interior Designers & Decorators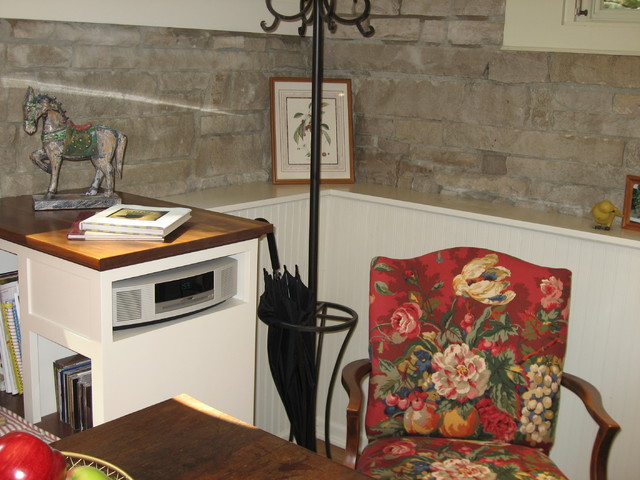 Lake House
This home at the back sits
below grade
, which means the bottom of the kitchen window has the garden grade outside. The kitchen was totally gutted and because of it being below grade we had pipes running on the face of the existing stone interior walls. I pulled out the depth of the base cabinets to allow the plumbing to be hidden, then also ran wainscoting to also hide any electrical and plumbing.
As we had no ability to put in upper cabinets the storage was all in the base. I designed cabinets to fit in a pull out pantry as well as storage for the toaster. The microwave was installed at a child friendly height as the home is used by all members of this extended family.
I used a bead-board on the ceiling which then was finished in a
high gloss paint
, which reflects the flowers growing in the garden.
The
small sitting area
combines storage for music as well as books, with the sky lights above this makes it a sunny area in a normally dark under grade area.
The raised counter for sitting was placed on the living room side keeping guests out of the cooks way. A vinyl floating floor was used as well as a mix of
walnut and painted cabinets
.