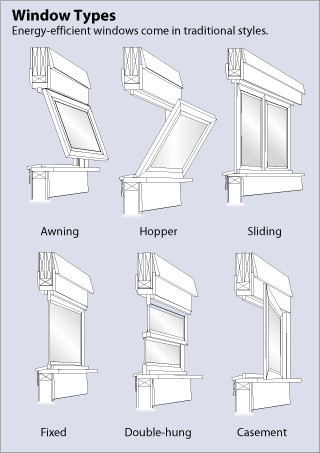 Window Types
Diagram via DOE Office of Energy Efficiency & Renewable Energy

Diagram in free domain.
What Houzz contributors are saying:

Window TypesLast, consider the type of window you want in terms of how it operates, as some window types allow more air leakage than others. Awnings, casement and hopper windows have lower air leakage than sliding windows. Fixed windows have no air passage at all, which isn't good if you occasionally want ventilation.And for the future, keep your eye out for windows that pop out of the wall entirely. I recently talked to Denis Hayes, one of the organizers of the first Earth Day, and he has recently discovered that windows that pop out have the least air leakage, especially because the seal won't wear down over time like the other windows. He worked with a window manufacturer to produce some of these windows on a one-off basis, but they may be on store shelves in a few years.
What Houzzers are commenting on: