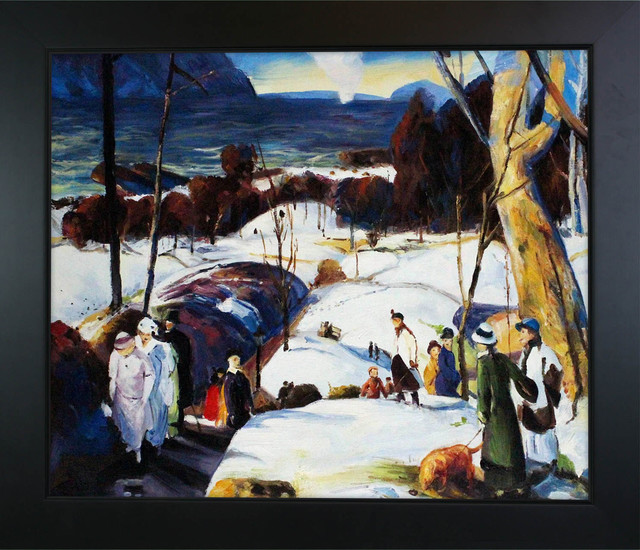 Bellows - Easter Snow, 20x24, New Age Wood Frame - Black Finish
Quantity:
Out of Stock
Free Shipping!
Only 6 Left!
20" X 24" Oil
Painting On Canvas
Easter Snow Originally painted in 1915, today it has been reproduced in fine hand painted oils on canvas. This image is part of the series of paintings Bellows made, between 1907 and 1915. The landscape, Easter Snow , offers a beautiful and soulful perspective on everyday life in middle class America. The artist's use of light enhances the colors and textures delivering an earthy feel within the composition. A wonderful example of turn-of-the-century realism, this landscape portrait fits well above a fireplace or any room with plenty of light to show off its true and luminous beauty. "...the most acclaimed American artists of his generation." Columbus Museum of Art George Wesley Bellows (1882-1925) was an American painter who lived and produced most of his work at the start of the twentieth century. Known for bold depictions of urban life in New York City, Bellows captures American pastimes based on his love of athletics. Bellows' style mixes dark atmospheres with bright light and geometrical shapes with long brushstrokes giving his scenes a sense of perpetual, fluid motion. These hallmarks of his style allowed Bellows to depict the grittiness of American society, a popular movement amongst turn-of-the-century realist artists. Although boxing scenes are Bellows' major contribution to art history, he later cultivates a more refined style and develops his use of light and dark to characterize the griminess of urban life fueled by the political and social themes of his time.
Frame Description: 20" X 24" Frame (Interior Dimensions) Width 3" FREE CANVAS STRETCHING with purchase of this frame ($30 value), and as always, FREE FEDEX GROUND SHIPPING!
Framed art size (exterior dimensions inches): 26" X 30"
Easter Snow - framed oil reproduction of an original painting by George Wesley Bellows
Product Specifications
Manufactured By

overstockArt.com

Sold By

Width

24.75"

Depth

2.0"

Height

28.75"

Size

20x24

Materials

Wood,Canvas,Oil

Category

Style
Ready to ship to the Continental U.S. in 1 - 6 days.
Product Description
20" X 24" Oil Painting On Canvas Easter Snow Originally painted in 1915, today it has been reproduced in fine hand painted oils on canvas. This image is part of the series of paintings Bellows made, between 1907 and 1915. The landscape, Easter Snow , offers a beautiful and soulful perspective on everyday life in middle class America. The artist's use of light enhances the colors and textures delivering an earthy feel within the composition. A wonderful example of turn-of-the-century realism, this landscape portrait fits well above a fireplace or any room with plenty of light to show off its true and luminous beauty. "...the most acclaimed American artists of his generation." Columbus Museum of Art George Wesley Bellows (1882-1925) was an American painter who lived and produced most of his work at the start of the twentieth century. Known for bold depictions of urban life in New York City, Bellows captures American pastimes based on his love of athletics. Bellows' style mixes dark atmospheres with bright light and geometrical shapes with long brushstrokes giving his scenes a sense of perpetual, fluid motion. These hallmarks of his style allowed Bellows to depict the grittiness of American society, a popular movement amongst turn-of-the-century realist artists. Although boxing scenes are Bellows' major contribution to art history, he later cultivates a more refined style and develops his use of light and dark to characterize the griminess of urban life fueled by the political and social themes of his time.



Frame Description: 20" X 24" Frame (Interior Dimensions) Width 3" FREE CANVAS STRETCHING with purchase of this frame ($30 value), and as always, FREE FEDEX GROUND SHIPPING!



Framed art size (exterior dimensions inches): 26" X 30"



Easter Snow - framed oil reproduction of an original painting by George Wesley Bellows
Need more info? Ask a question