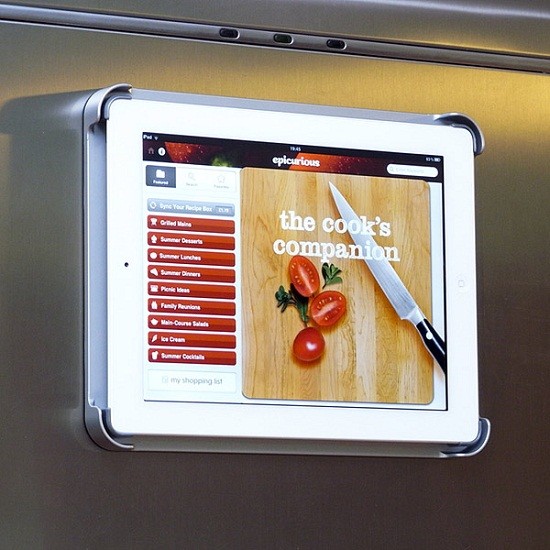 What Houzz contributors are saying:

The App Store also offers thousands of kitchen-specific apps, which give you measurement conversions,
kitchen timers
, recipe organizers and more. And there is incredible foodie content like Mark Bittman's "How to Cook Everything," Martha Stewart's "Everyday Food" and even an Epicurious app with 28,000 recipes.The kitchen as home entertainment center. Kitchen activity isn't just fun stuff like cooking. It also involves boring stuff like cleaning. An iPad mounted in the kitchen can bring you live television, news, podcasts, social networking, videoconferencing and more to inform and entertain you as you scrub the sink. You can even scan the Houzz iPad app to get ideas for home design. It's also for catching up on the news, weather and email in the morning while you're getting ready for work. And nothing could be better for food-related social networking that an iPad-equipped kitchen. Take pictures of your creations and share them on Facebook, Instagram or Path. Monitor your social stream. Hang out on Google+. How to install an iPad in the kitchen. There are dozens of options available for easy and affordable mounting or placement of your iPad in the kitchen. Here are a few:Woodford Design makes a $50 magnetic mount for placing your iPad on a metal refrigerator.A very inexpensive solution is the Original Kitchen iPad Rack, which is an innovative system with an acrylic rack that's mounted under the cabinet and easily stowed.Belkin makes a range of mounting solutions for the kitchen, including a $40 Fridge Mount, a $50 Cabinet Mount and even a $40 Chef Stand, complete with stylus.

4. Add other electronic devices that you like to use in the kitchen. If you're addicted to cooking shows, bring a TV into the kitchen so you can keep up with Julia, Emeril or Giada. If you love to keep track of new recipes on the
Internet
, make an iPad station a part of your kitchen. Why Your Kitchen Wants Its Own iPad
What Houzzers are commenting on:
There are dozens of options available for easy and affordable mounting or placement of your iPad in the kitchen. Among them: Woodford Design's $50 magnetic mount for placing your iPad on a metal refrigerator. —
Mike Elgan
Product Specifications
Category

Style