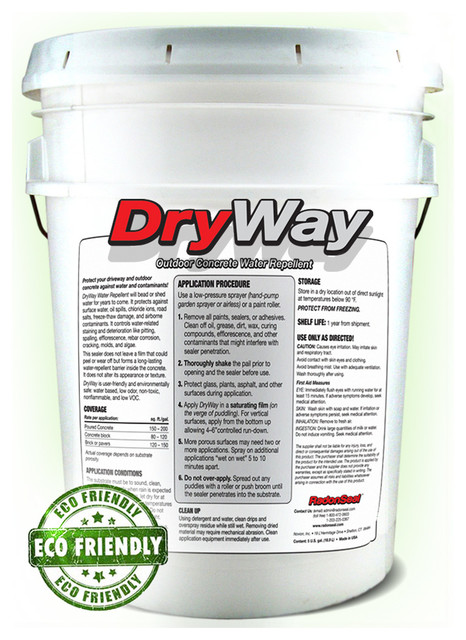 This photo has one question
What Houzzers are commenting on:
DryWay Water-Repellent Concrete Sealer (5-gal)
DryWay Water-Repellent Concrete Sealer is the latest and most advanced type of penetrating water-repellent sealers for concrete and porous masonry. The sealer's small molecules penetrate 1/2" into the substrate, chemically reacts, bonds, and cures in a long-chain of molecules. It is like filling the pores of your concrete with hard silicone caulk!
Estimated Service Life 15 to 20 years – DryWay protects the surface of concrete driveways, pavers,
garage
floors, shop floors, patios, pool decks, and decorative concrete against water stains, oil spills, chlorine, molds, sprinklers and deterioration. Treated concrete and masonry will bead water for years to come, reducing cracking, pitting, spalling, efflorescence, rebar corrosion, molds, and algae. DryWay will provide the most durable protection to your outdoor concrete against attack from:
• WIND DRIVEN RAIN
• OIL & CHEMICAL SPILLS
• GRAFFITI, GUM
• IRRIGATION or SPRINKLER SYTEMS
• FREEZE-THAW DAMAGE
• CHLORINE IONS
• ROAD SALTS, DEICING CHEMICALS
• MOSS, MOLD and MILDEW GROWTH
Easy Cleaning – The sealers water-repellent properties allow for easy cleaning of spills and stains. DryWay lessens the bond of snow and ice which greatly reduces snow-removal costs. Protects concrete from gum, graffiti, rust, and stains from leaves and pine cones, and water (sprinkler and irrigation systems).
Slip Resistant – This advanced penetrating concrete sealer does not leave a film that will peel or wear off but forms a long-lasting water-repellent barrier inside the concrete. It does not alter the surface appearance or texture of the concrete. DryWay is also inherently resistant to UV-rays, heat, and oxidative degradation. The sealer will not yellow and leaves no gloss at the surface.
Breathable – For maximum penetration and durability, DryWay has the highest siloxane/silane content in its class of sealers. Its performance far exceeds the requirements of NCHRP 244 and federal specification SSW 110 C. DryWay will not trap water vapor thus allowing for the concrete to breathe and dry out.
Surface Prep - For proper absorption of the sealer the substrate must be clean, porous, and dry. If the concrete is tight (machine-troweled) you can improve surface porosity by acid etching or concrete
grinding
.
• Scuff sand hydrophobic surface levelers and patching compounds.
• Shop-vac loose debris and crumbling concrete.
• Allow at least 72 hours for the concrete to dry after power washing.
Safe & Easy To Apply – DryWay is user-friendly and environmentally safe. Water-based,
low odor
, non-toxic, nonflammable, and ultra low VOC. Simply apply using a low-pressure sprayer (hand-pump "garden" sprayer or adjustable airless), paint roller (3/4" nap), or with a paint brush.
1. Shake or roll the pail prior to use.
2. Apply DryWay in a saturating film just on the verge of puddling. For vertical surfaces, apply the seal
3. For more porous surfaces, apply a second
application
5-10 minutes apart or later.
4. DO NOT OVERAPPLY! Backroll puddles until the sealer penetrates through the surface.
Coverage – Coverage rate will depend on the porosity and composition of the concrete. Older concrete with larger pores or more alkalis consume more of the sealer. Blocks and porous surfaces may require two "wet-on-wet" applications 10 minutes apart or later (preferably next day). Split face blocks may need three applications. The additional applications are lighter. Coverage per 5-gal pail:
• POURED CONCRETE - 1 application will cover 200 sq. ft. (per gal)
• CONCRETE BLOCKS - 1 application will cover 100 sq. ft. (per gal)
• BRICK or PAVERS - 1 application will cover 150 sq. ft. (per gal)
• SPLITFACE BLOCK - 1 application will cover 70 sq. ft. (per gal)
Product Specifications
Manufactured By

RadonSeal®

Sold By

Width

16"

Depth

16"

Height

16"

Shipping Weight

48oz.

Category

Style
Ready to ship to the Continental U.S. in 1 - 3 days.
Product Description
DryWay Water-Repellent Concrete Sealer is the latest and most advanced type of penetrating water-repellent sealers for concrete and porous masonry. The sealer's small molecules penetrate 1/2" into the substrate, chemically reacts, bonds, and cures in a long-chain of molecules. It is like filling the pores of your concrete with hard silicone caulk!

Estimated Service Life 15 to 20 years – DryWay protects the surface of concrete driveways, pavers, garage floors, shop floors, patios, pool decks, and decorative concrete against water stains, oil spills, chlorine, molds, sprinklers and deterioration. Treated concrete and masonry will bead water for years to come, reducing cracking, pitting, spalling, efflorescence, rebar corrosion, molds, and algae. DryWay will provide the most durable protection to your outdoor concrete against attack from:
• WIND DRIVEN RAIN
• OIL & CHEMICAL SPILLS
• GRAFFITI, GUM
• IRRIGATION or SPRINKLER SYTEMS
• FREEZE-THAW DAMAGE
• CHLORINE IONS
• ROAD SALTS, DEICING CHEMICALS
• MOSS, MOLD and MILDEW GROWTH

Easy Cleaning – The sealers water-repellent properties allow for easy cleaning of spills and stains. DryWay lessens the bond of snow and ice which greatly reduces snow-removal costs. Protects concrete from gum, graffiti, rust, and stains from leaves and pine cones, and water (sprinkler and irrigation systems).

Slip Resistant – This advanced penetrating concrete sealer does not leave a film that will peel or wear off but forms a long-lasting water-repellent barrier inside the concrete. It does not alter the surface appearance or texture of the concrete. DryWay is also inherently resistant to UV-rays, heat, and oxidative degradation. The sealer will not yellow and leaves no gloss at the surface.

Breathable – For maximum penetration and durability, DryWay has the highest siloxane/silane content in its class of sealers. Its performance far exceeds the requirements of NCHRP 244 and federal specification SSW 110 C. DryWay will not trap water vapor thus allowing for the concrete to breathe and dry out.

Surface Prep - For proper absorption of the sealer the substrate must be clean, porous, and dry. If the concrete is tight (machine-troweled) you can improve surface porosity by acid etching or concrete grinding.
• Scuff sand hydrophobic surface levelers and patching compounds.
• Shop-vac loose debris and crumbling concrete.
• Allow at least 72 hours for the concrete to dry after power washing.

Safe & Easy To Apply – DryWay is user-friendly and environmentally safe. Water-based, low odor, non-toxic, nonflammable, and ultra low VOC. Simply apply using a low-pressure sprayer (hand-pump "garden" sprayer or adjustable airless), paint roller (3/4" nap), or with a paint brush.

1. Shake or roll the pail prior to use.
2. Apply DryWay in a saturating film just on the verge of puddling. For vertical surfaces, apply the seal
3. For more porous surfaces, apply a second application 5-10 minutes apart or later.
4. DO NOT OVERAPPLY! Backroll puddles until the sealer penetrates through the surface.

Coverage – Coverage rate will depend on the porosity and composition of the concrete. Older concrete with larger pores or more alkalis consume more of the sealer. Blocks and porous surfaces may require two "wet-on-wet" applications 10 minutes apart or later (preferably next day). Split face blocks may need three applications. The additional applications are lighter. Coverage per 5-gal pail:
• POURED CONCRETE - 1 application will cover 200 sq. ft. (per gal)
• CONCRETE BLOCKS - 1 application will cover 100 sq. ft. (per gal)
• BRICK or PAVERS - 1 application will cover 150 sq. ft. (per gal)
• SPLITFACE BLOCK - 1 application will cover 70 sq. ft. (per gal)
Need more info? Ask a question