Colleen Brett
Media & Bloggers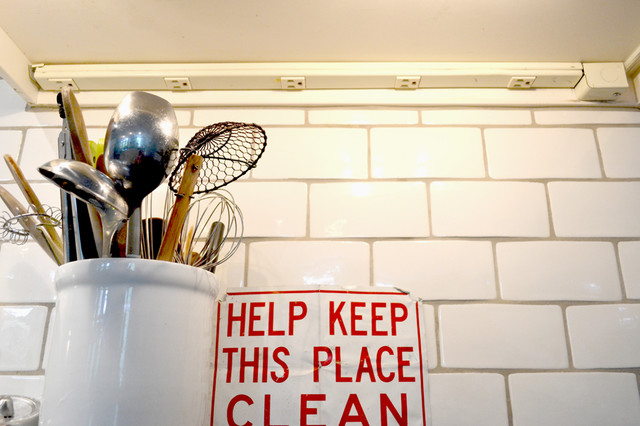 Wyncote home - exterior
Colleen Steixner © 2012 Houzz
This photo has 5 questions
What Houzz contributors are saying:

Pay attention to this practical idea: Rather than choosing to have electrical outlets muck up her pristine subway tile backsplash, she relocated them to underneath the cabinets.

Offsite storage. You'll need to stash your stuff somewhere while work is in progress. If you don't have an attic, a basement or a willing friend with a large spare room, you may need to rent an offsite storage unit for the duration. Depending on size and other factors, these units can cost anywhere from $20 to a few hundred bucks a month.Building code quirks. Codes vary depending on where you live, but you may well face a list of requirements that must be satisfied in order for your permit to go through, particularly in an older home. For example, in obtaining estimates for a planned
bathroom remodel
, my husband and I learned that we'd need several new smoke detectors hardwired into the main electrical system, to the tune of several hundred dollars.Utility bills. Whose electricity powers all those table saws, nail guns, paint sprayers and floor sanders? That's right — yours. In addition, heavy traffic in and out of the house could pad your heating and cooling bills, especially in hot or cold weather.

15. Consider reducing the total size of your home. If you're planning to build or buy a new home, really think about how much space you need. If you maximize the functionality of your home, you may not need nearly as much space as you think. It's just simple logistics that the larger your home is, the longer it takes to clean. If you're not moving to a new home, then just reducing the amount of stuff you have in your home will also help. Wherever it makes sense, declutter, purge and divest yourself of things that take up your time and energy to care for.Bonus tip: This photo shows my favorite tip to reduce cleanup time. I love this sign reminding everyone to pitch in and help. I know my Houzz readers, and I bet you will all have additional great tips on designing a home that is a snap to clean. I'm looking forward to hearing your ideas.More in Home Tech: Where Is My Robot Housekeeper?
What Houzzers are commenting on: