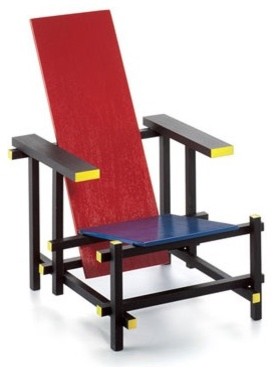 What Houzz contributors are saying:

When Schröder-Schräder commissioned Rietveld to design a small house for her and her three children, the architect had not yet designed a building. He was well known for furniture, particularly the Red Blue Chair; its form dates back to 1918, but it did not receive its distinctive color scheme until 1923.The chair, which looks anything but comfortable, is a graphical exercise in De Stijl ideals. The all-important planes receive the red and blue paint, but the dimensional lumber that makes up the structure and arms is painted black, with yellow highlights at the tips. The yellow gives the impression that the wood pieces are actually abstract lines that are cut to create the chair. It is easy to see the relationship of Rietveld's chair to the paintings of Mondrian.
What Houzzers are commenting on:
Miniature Rood Blauwe Stoel Chair
With painstaking detail to the construction, materials and colors, the Miniatures Collection presents this renowned classic of modern furniture history by Gerrit Rietveld reduced in size to a 1:6 scale. Each of the models are hand made and custom built right down to the miniature screws and hand woven fabrics. Due to their precision crafting and meticulous detail, these valuable collector's items are also ideal illustrative material for universities, colleges of designs and architects. For each miniature there is a license agreement with the designer or his or her heirs. Many designers collaborate with Vitra to develop the miniatures of their own designs and offer their assistance by supplying information on the objects. Designed by: Gerrit Rietveld, 1918 Features: -Reduced to 1:6 scale -Miniatures correspond in great detail to the originals -Ideal illustrative material for instructors, designers, and architects -Overall Dimensions: 5.75" H x 4.25" W x 5.5" D Design: -Design is the process by which almost all objects in Vitra's surroundings are instilled with a specific design and function - from cars to paper clips, from clothing to chairs. And design does not just mean giving things a shape. Design creates the basis which enables things to function in the desired manner. It is a process in which complementary but often mutually contradictory requirements have to be met (comfort, technology, ergonomics, ecology, economics, aesthetics). Design can be successful only when the balance of all these factors is attained. Quality: -Once in the factory, Vitra staff manufacture furniture to precise standards, individually ensuring the quality of each product. -Vitra has been certified for DIN EN ISO 9001 : 2000. -Vitra's focus on quality does not end at the factory door - they believe that providing clients with exceptional service is just as important as manufacturing furniture. In order to make certain Vitra clients enjoy consistently high quality in all Vitra products, they have set up their own test center which monitors products against criteria that are far more stringent than the statutory standards. Ergonomics: -Ergonomics is an applied science that studies the relationship between human beings and machines. Vitra produces furniture that responds to the ergonomic requirements of the body and as a consequence has a positive effect on health and well-being. All Vitra products (except for the experimental series Vitra Edition) have been tested by independent institutions. They comply with prescribed standards under the European Directive on VDU Work and are marked with the GS seal (= Geprfte Sicherheit or Tested Safety, seal of the independent certification company LGA). Ecology: -Vitra's contribution to ecological conservation does not stop with a close examination of materials and processes. All aspects of the company's work involve ecological thinking. -In 1991, Vitra set up an internal ecology committee to discuss environmental topics. This team identifies new tasks, and its project teams work together to find solutions. -Vitra uses only non-CFC foams and adhesives free of toxic solvents; all possible materials are recycled. Wherever possible, Vitra uses recycled materials. -Vitra's goal during production is to minimize noise and emission levels as well as to reduce waste. Packaging materials are kept to a minimum and re-used as often as possible.
Product Specifications
Sold By

Category

Style