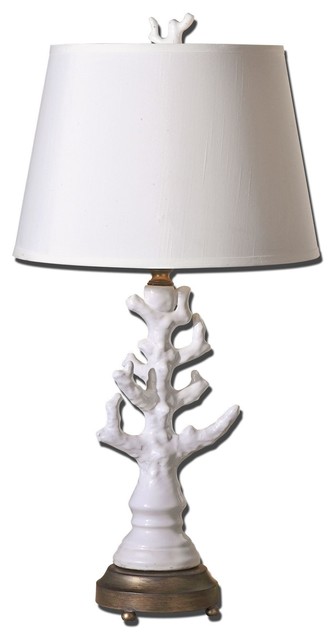 Uttermost Matthew Williams Table Lamp in Heavily Antiqued Silver
Shown in picture: Glossy White Glaze Over A Coral Shaped
Ceramic Base
With Heavily Antiqued Silver Details. Glossy white glaze over a coral shaped ceramic base with heavily antiqued silver details. The round - hardback - straight sided shade is an off white linen fabric with light slubbing.
Basic Info:
-Item Brand Code: UT
-Item Brand Name: Uttermost
-Item SKU: UT-27493
-Item ID: 83690
-Item Family Name: Matthew Williams
-Item Short Description: Uttermost 27493 Coral
-Item Category: Lamps - Table/Floor
-Item Category Title: Lamp
-Item Type:
Table Lamps
-Item Subcategory Title: Table Lamp
-Item Style: Other
-Item Finish Group: Wood/Natural
-Item Finish Description: Heavily Antiqued Silver
-Item Type: Indoor Lighting
Manufacturer Supplied Info:
-MPN: 27493
-SKU: UT-27493
-UPC: 792977274934
-Model Name: Uttermost Coral
White Table Lamp
Product Specifications
Manufactured By

Uttermost

Sold By

Width

16.0"

Depth

16.0"

Height

32.0"

Color

Heavily Antiqued Silver

Category

Style
Ready to ship to the Continental U.S. in 1 - 5 days.
Product Description
Shown in picture: Glossy White Glaze Over A Coral Shaped Ceramic Base With Heavily Antiqued Silver Details. Glossy white glaze over a coral shaped ceramic base with heavily antiqued silver details. The round - hardback - straight sided shade is an off white linen fabric with light slubbing.

Basic Info:
-Item Brand Code: UT
-Item Brand Name: Uttermost
-Item SKU: UT-27493
-Item ID: 83690
-Item Family Name: Matthew Williams
-Item Short Description: Uttermost 27493 Coral
-Item Category: Lamps - Table/Floor
-Item Category Title: Lamp
-Item Type: Table Lamps
-Item Subcategory Title: Table Lamp
-Item Style: Other
-Item Finish Group: Wood/Natural
-Item Finish Description: Heavily Antiqued Silver
-Item Type: Indoor Lighting

Manufacturer Supplied Info:
-MPN: 27493
-SKU: UT-27493
-UPC: 792977274934
-Model Name: Uttermost Coral White Table Lamp
Need more info? Ask a question