IVAN C. DESIGN LIMITED
Architects & Building Designers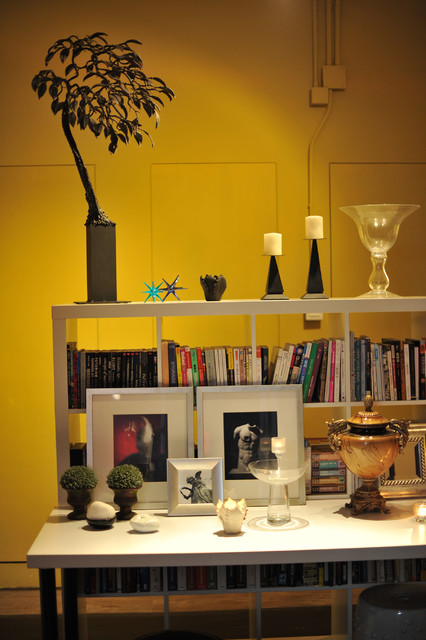 Loft · Fantasia
Fantasia is the driving force and theme of a designer's art creation, while creating an artistic space is the symphony of a designer's life. The 3.2m high attic where points, lines and surfaces produce a strong sense of space is the library and studio of the designer, filled with fantasies and dreams of its owner. The background tone, inspired by the owner's experience as a stage designer, is a combination of adventurous purple, yellow and other bright colors, bringing the passion of life to the entire space. Through the glass door, the room in the background of purple walls and ceiling is like a mini stage. The decoration of doorway with red curtain, portrait of a clown and a stage-style mirror reflects a myriad of colors like a kaleidoscope, a prelude of the Fantasia of attic. Entering from the doorway, the studio in a modernist white background is home to an impressive collection of artworks and books, like musical notes dancing to their heart's content in the embrace of the nature, recording the owner's footprint around the world and expressing unlimited imagination of the designer. A Chinese-style cabinet owed for over a decade stands in the corridor as an accompaniment to this symphony of Fantasia, like an aged and faithful housekeeper watching over the place in silence. The living room in the corner gives the impression of a wonderland of dreams, against a background of towering skyscrapers and marvelous scenery of
Hong Kong
outside the window and decorated by the owner's cherished collection of artworks from across the world.
The brightly colored painting The Parrot is renowned artist Cheng Yajie's work, which possesses an unspeakable power of emotion on the border between reality and illusions. The sofa and cotton handicrafts in Southeast Asian style have added exotic charm to the space. In the attic, the owner indulges himself in an imagined wonderland constructed with artworks from all corners of this planet as his art creation, alive with brilliant inspiration, flows from the
symphony
of fantasies and dreams.
What Houzzers are commenting on: