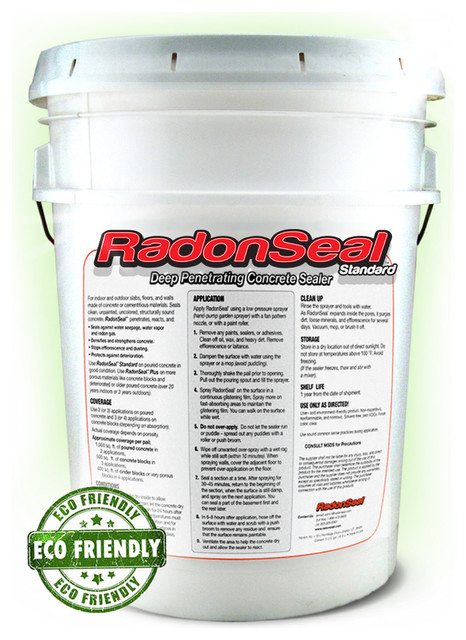 What Houzzers are commenting on:
RadonSeal® Standard Concrete Sealer (2.5 gal)
The only concrete sealer backed up by a Lifetime Money-Back Guarantee! RadonSeal® Penetrating Concrete Sealer has been the most trusted and widely-used concrete sealer for both construction and residential waterproofing projects. RadonSeal is a reactive, internal sealer for concrete, mortar, and other cementitious materials. It penetrates deep into concrete (up to 4"), reacts, expands inside the pores, and cures as a hard silicate mineral preventing the transmission of water seepage, water vapor, efflorescence, and even strong enough against radon gas.

Unlike common surface sealers (membrane coatings) or waterproofing paints sold in stores, RadonSeal can never peel off or wear away. There is no need to ever reapply the product again! Once RadonSeal has cured inside the concrete, it can not be pushed out regardless of hydrostatic pressure. The seal becomes integral to the concrete itself providing hardness and durability. Think of it like injecting more cement into the concrete! RadonSeal does not form a film on the surface so it will not change the appearance or friction of the concrete.

USE TO WATERPROOF CONCRETE WALLS AND FLOOR – RadonSeal is the heaviest available silicate-based sealer, which penetrates deeper, carries more active minerals, and seals tighter than any other concrete sealer. The penetration does not depend on gravity – it is also used on walls and ceilings (pulled in by capillary action). In case of basement walls, RadonSeal is normally applied to interior walls to seal against water seepage, water vapor, and radon gas from the ground. However, if there is an opportunity to apply it to the outside, it has the added advantage of preserving the exterior of the concrete and extending the life of waterproofing coating.

USE AS A CONCRETE PRIMER BEFORE PAINTING – Because RadonSeal protects concrete against water vapor, efflorescence, and the "alakli attack" it is commonly used by flooring contractors as a concrete primer. RadonSeal is suitable for use before applying paints, adhesives, epoxy floor coatings, concrete overlays, surface levelers, membrane "wet-look" coatings and before the installation of moisture sensitive flooring.

USE TO AS A CONCRETE DENSIFIER – Once cured, RadonSeal makes concrete denser and stronger (up to 40% in flexural strength). Use on concrete surfaces to reduce dusting, crumbling, and overall wear.

RadonSeal® Standard is used for sealing indoor poured concrete less than 20 years, or outdoor concrete less than 2 years old.

Use RadonSeal® PLUS for sealing poured concrete older than 20 year, and concrete blocks.

COVERAGE – Coverage will depend on the porosity and composition of the concrete. Concrete with larger pores or more alkalis consume more sealer.

POURED CONCRETE – 2 applications will cover 400-600 sq. ft.

APPLICATION – RadonSeal® Standard is a user- and environment-friendly waterborne sealer formulated for an easy and safe application. Non-hazardous, ZERO VOCs with no fumes or noxious odors. Apply using a hand pump "garden" sprayer, paint roller (3/4" nap), or brush.

PRODUCT USE – RadonSeal is not advised for use on fiber reinforced concrete, or thin concrete (
Product Specifications
Manufactured By

RadonSeal®

Sold By

Width

16"

Depth

16"

Height

16"

Shipping Weight

29oz.

Materials

Waterborne, Silicate

Category

Style
Ready to ship to the Continental U.S. in 1 - 3 days.
Product Description
The only concrete sealer backed up by a Lifetime Money-Back Guarantee! RadonSeal® Penetrating Concrete Sealer has been the most trusted and widely-used concrete sealer for both construction and residential waterproofing projects. RadonSeal is a reactive, internal sealer for concrete, mortar, and other cementitious materials. It penetrates deep into concrete (up to 4"), reacts, expands inside the pores, and cures as a hard silicate mineral preventing the transmission of water seepage, water vapor, efflorescence, and even strong enough against radon gas.

Unlike common surface sealers (membrane coatings) or waterproofing paints sold in stores, RadonSeal can never peel off or wear away. There is no need to ever reapply the product again! Once RadonSeal has cured inside the concrete, it can not be pushed out regardless of hydrostatic pressure. The seal becomes integral to the concrete itself providing hardness and durability. Think of it like injecting more cement into the concrete! RadonSeal does not form a film on the surface so it will not change the appearance or friction of the concrete.

USE TO WATERPROOF CONCRETE WALLS AND FLOOR – RadonSeal is the heaviest available silicate-based sealer, which penetrates deeper, carries more active minerals, and seals tighter than any other concrete sealer. The penetration does not depend on gravity – it is also used on walls and ceilings (pulled in by capillary action). In case of basement walls, RadonSeal is normally applied to interior walls to seal against water seepage, water vapor, and radon gas from the ground. However, if there is an opportunity to apply it to the outside, it has the added advantage of preserving the exterior of the concrete and extending the life of waterproofing coating.

USE AS A CONCRETE PRIMER BEFORE PAINTING – Because RadonSeal protects concrete against water vapor, efflorescence, and the "alakli attack" it is commonly used by flooring contractors as a concrete primer. RadonSeal is suitable for use before applying paints, adhesives, epoxy floor coatings, concrete overlays, surface levelers, membrane "wet-look" coatings and before the installation of moisture sensitive flooring.

USE TO AS A CONCRETE DENSIFIER – Once cured, RadonSeal makes concrete denser and stronger (up to 40% in flexural strength). Use on concrete surfaces to reduce dusting, crumbling, and overall wear.

RadonSeal® Standard is used for sealing indoor poured concrete less than 20 years, or outdoor concrete less than 2 years old.

Use RadonSeal® PLUS for sealing poured concrete older than 20 year, and concrete blocks.

COVERAGE – Coverage will depend on the porosity and composition of the concrete. Concrete with larger pores or more alkalis consume more sealer.

POURED CONCRETE – 2 applications will cover 400-600 sq. ft.

APPLICATION – RadonSeal® Standard is a user- and environment-friendly waterborne sealer formulated for an easy and safe application. Non-hazardous, ZERO VOCs with no fumes or noxious odors. Apply using a hand pump "garden" sprayer, paint roller (3/4" nap), or brush.

PRODUCT USE – RadonSeal is not advised for use on fiber reinforced concrete, or thin concrete (
Need more info? Ask a question