Urban Hedgerow
Artists and Artisans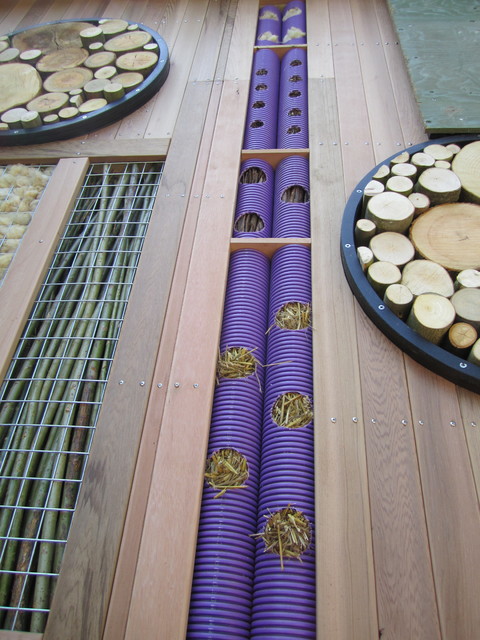 Green Roof Shelters Wall
Photograph by: Lisa Lee Benjamin
Work credit: John Little and Lisa Lee Benjamin
Uploaded to Houzz with written permission
What Houzz contributors are saying:

Nesting birds and insects can find shelter in this
habitat
built with Green Roof Shelters. Native plants and collected organic materials like wool and bark are tucked inside recycled and reused construction materials. While Benjamin works with artists to create attention-grabbing shelters, the real needs of nesting birds and bees still must be met. Even then, the result is not always foolproof. "I once watched a bee go straight into a screw hole after a week working on a hand-crafted mud concrete panel for nesting bees," Benjamin says.

Providing nesting materials will ensure new little ones born in your garden each year. Try a cool setup like this or simply throw the hair from your hairbrush and small bits of moss and hay out in the garden. The birds will find them.See how to create
bird
and bug habitats even in the city
What Houzzers are commenting on: