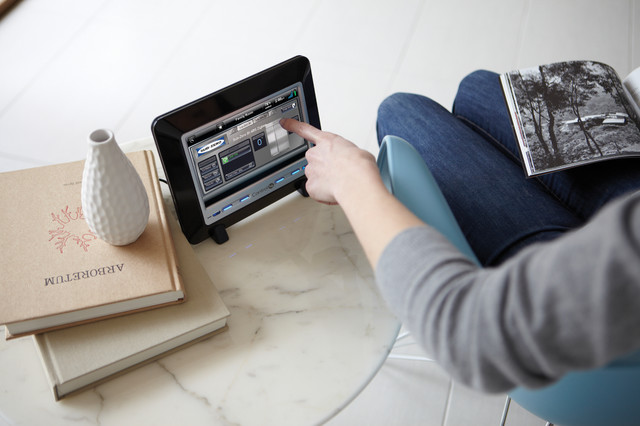 What Houzz contributors are saying:

What happens when everything is connected. The reason Bluetooth 4.0 will completely change everything in the home is that it will accomplish the following feats: 1. It will replace proprietary technologies. A wide range of household
gadgets
, from TV remote controls to room temperature thermostats to doorbells, use nonstandard tech to communicate wirelessly. New capabilities in Bluetooth 4.0 will mean all these gadgets can just use the new standard. When that happens, you'll be able to easily connect to, monitor and control things with your phone and tablet. Current tablet products, such as Control4's 7-Inch Portable Touch Screen (shown) use Wi-Fi or proprietary wireless technologies. Because of those technologies, the use of tablets for controlling things is rare. Bluetooth will make home tablet remote controls and control panels commonplace. 2. It will enable more things to be wireless. Bluetooth 4.0 will make it cheap and easy for companies to add wireless connectivity to random things: lamps, washing machines, refrigerators, coffee makers, air conditioners, ovens and much more. You'll be able to control and monitor things from your phone or over the Internet that you previously had to control by touching the object. 3. It will let you automate things. Once an appliance or piece of functional furniture can be controlled through Bluetooth 4.0, it can be easily automated. You just need the software to control it. Your smart phone and tablet are based on an "app" economy, so you can expect literally thousands of home-control apps to come on the market over the next few years. 4. It will help appliances talk to one another. With all your stuff connected via Bluetooth 4.0, the appliances in your house can talk to other appliances without your involvement. The thermostat can turn on the air conditioner. An incoming phone call can pause your TV show. The alarm clock by your bed can turn on the coffee machine. The cell phone in your pocket can turn on the lights in and around your house as you pull into the driveway. Futurists have been making bold predictions about the coming age of the "smart home" for decades. All these visions involve wireless technology for connecting devices to the Internet, to user control devices and to each other. Bluetooth 4.0 is that technology. And now it's here.
What Houzzers are commenting on:
Control4 7-Inch Portable Touch Screen
The Control4 7" Portable Touch Screen is a proprietary interface for controlling everything in a smart home, from the home entertainment system to the refrigerator.
—
Mike Elgan
Product Specifications
Category