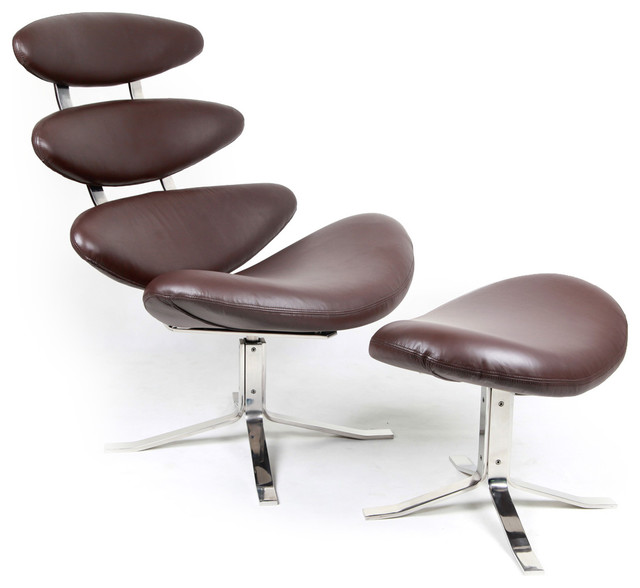 Kardiel Corona Style Chair & Stool, Choco Brown Aniline Leather
Quantity:
Out of Stock
Free Shipping!
Only 1 Left!
Poul M. Volther created the original Corona Chair in 1962. Kardiel specializes in this series and understands fully the intricacies of the original design. Like the original, this reproduction of the Corona Chair is fully handcrafted using the finest materials such as Cashmere Wool and pure stainless steel legs. This stunning reproduction not only has the unmistakable look of Poul M. Volther, its as close as it can be to the original design. Feature: (1) 100% genuine Full Grain Aniline Italian leather (not vinyl, leather match nor 100% Italian leather); (2) Smooth Contour pressed high density CA-117 foam & Dacron wrap provides meticulous shape contour & Cushion Platform resilience; (3) Entire
Chair and Ottoman
hand sewn using braid Lockstitch (stitch type #301) providing the look and durability of the original seams; (4) Pure solid Stainless Steel #304 Flat Bar 3/8e thick x 1 _e frame with a 3 step hand polished shine; (5) Constructed around a Steel edimension truee curvature shell;
Product Specifications
Ready to ship to the Continental U.S. in 3 - 10 days.
Product Description
Poul M. Volther created the original Corona Chair in 1962. Kardiel specializes in this series and understands fully the intricacies of the original design. Like the original, this reproduction of the Corona Chair is fully handcrafted using the finest materials such as Cashmere Wool and pure stainless steel legs. This stunning reproduction not only has the unmistakable look of Poul M. Volther, its as close as it can be to the original design. Feature: (1) 100% genuine Full Grain Aniline Italian leather (not vinyl, leather match nor 100% Italian leather); (2) Smooth Contour pressed high density CA-117 foam & Dacron wrap provides meticulous shape contour & Cushion Platform resilience; (3) Entire Chair and Ottoman hand sewn using braid Lockstitch (stitch type #301) providing the look and durability of the original seams; (4) Pure solid Stainless Steel #304 Flat Bar 3/8e thick x 1 _e frame with a 3 step hand polished shine; (5) Constructed around a Steel edimension truee curvature shell;
Need more info? Ask a question