Dura Supreme Cabinetry
Cabinets & Cabinetry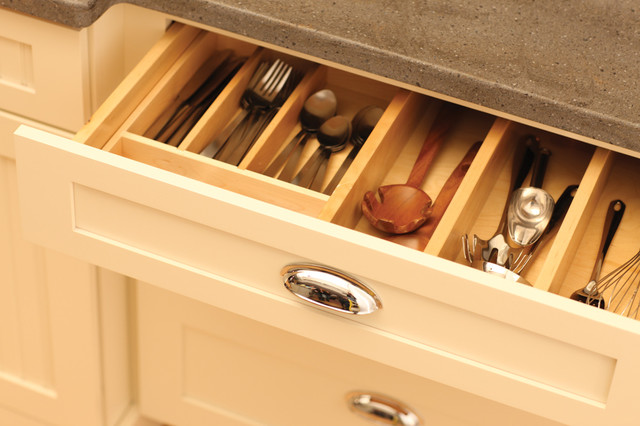 Cottage Kitchen - Personal Touches
Personal Touches -
Wide drawers
can be devided with a partition to accommodate two accessories; a cutlery tray on the left with partitioned utensil storage on the right (CD & 3 DWRP).
Reminisce about your favorite beachfront destination and your mind's eye evokes a serene, comfortable cottage with windows thrown open to catch the air, and the relaxing sound of waves nearby. In the shade of the porch, a hammock sways invitingly in the breeze.
The color palette is simple and clean, with hues of white, like sunlight reflecting off sand, and blue-grays, the color of sky and water. Wood surfaces have soft painted finishes or a scrubbed-clean, natural wood look. "Cottage" styling is carefree living, where every element conspires to create a casual environment for comfort and relaxation.
This
cottage kitchen
features Antique White and Mineral painted cabinetry. These soft hues bring in the clean and simplicity of Cottage Style. As for hardware, bin pulls are a popular choice and make working in the kitchen much easier.
Request a FREE Brochure:
http://www.durasupreme.com/request-brochure

Find a dealer near you today:
http://www.durasupreme.com/dealer-locator

What Houzz contributors are saying:

Drawer inserts. Though this drawer insert is filled with
utensils
, it would work equally well for beverage ingredients. A drawer insert with dividers placed near the stovetop is an easy way to compartmentalize your tea stash without trying to stuff those bags and boxes into your pantry and making it a giant mess."I recommend using full-extension roll-out drawers that are just deep enough for a single layer of tea boxes," Moloney-Grelli says. "This way you'll be able to see exactly what you have without digging around or losing loose tea bags. Dedicating the entire drawer box as a tea box is a good opportunity to categorize a large collection into herbals, greens, blacks etc.""Drawer partitions come in fixed or adjustable styles," adds Anderson. "Having the ability to adjust the compartments is a great way to customize your changing drink choices as they may progress throughout the season." Maybe you go whole hog on tea selections from your favorite shop in November, but come early December, the family is all about indulging in specialty hot cocoas. Then of course the onslaught of holiday guests may have you wanting to stock that drawer with everyone's favorite coffee beans. Adjustable partitions allow you to keep up as necessary without anyone's having to ask you where things are.An organized drawer allows folks to serve themselves, allowing you to look like a great host without having to do all the work.
What Houzzers are commenting on: