Dura Supreme Cabinetry
Cabinets & Cabinetry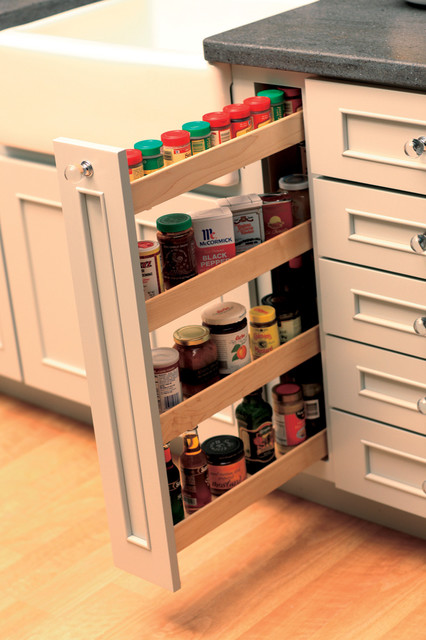 Cottage Kitchen - Personal Touches
Personal Touches - Small spaces offer surprising amount of spices storage with vertical pull-out
spice rack
(BPOF-SR or BPOC-SR).
Reminisce about your favorite beachfront destination and your mind's eye evokes a serene, comfortable cottage with windows thrown open to catch the air, and the relaxing sound of waves nearby. In the shade of the porch, a hammock sways invitingly in the breeze.
The color palette is simple and clean, with hues of white, like sunlight reflecting off sand, and blue-grays, the color of sky and water. Wood surfaces have soft painted finishes or a scrubbed-clean, natural wood look. "Cottage" styling is carefree living, where every element conspires to create a casual environment for comfort and relaxation.
This
cottage kitchen
features Antique White and Mineral painted cabinetry. These soft hues bring in the clean and simplicity of Cottage Style. As for hardware, bin pulls are a popular choice and make working in the kitchen much easier.
Request a FREE Brochure:
http://www.durasupreme.com/request-brochure

Find a dealer near you today:
http://www.durasupreme.com/dealer-locator


What Houzz contributors are saying:

Sizes and expectations: Poe explains, "When I plan for spices in any of my kitchen projects, I always make sure to ask my client what kinds of spices and sizes of jars they use. I want to be sure that they are aware of how their new spice rack will work for them. Not all spice racks can accommodate large jars of minced onion or a tall bottle of oil. It's important for me to be sure that we have the right size and amount of space for all different varieties."Poe says she likes to specify the 6- or 9-inch-wide spice shelves when she can, but she knows from personal experience that even the 3-inch-wide option can handle a good number of spices (she has one in her own kitchen). However, she does tend to discourage clients from using the pullouts in 12-inch-deep wall cabinets, because they don't hold a lot of spices and the higher shelves are often challenging to reach. Tramontin adds that in a wall cabinet installation, the maximum height of a pullout shelf is typically 30 inches.
What Houzzers are commenting on: