Dura Supreme Cabinetry
Cabinets & Cabinetry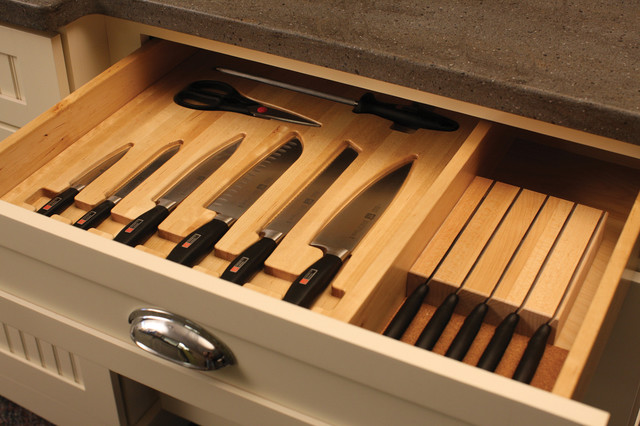 Cottage Kitchen - Personal Touches
Personal Touches - A partition divides a wide drawer to accommodate the carved
knife block
( for the Henckels knives) and a slotted knife holder for a set of steak knifes (CCDI & DKH).
Reminisce about your favorite beachfront destination and your mind's eye evokes a serene, comfortable cottage with windows thrown open to catch the air, and the relaxing sound of waves nearby. In the shade of the porch, a hammock sways invitingly in the breeze.
The color palette is simple and clean, with hues of white, like sunlight reflecting off sand, and blue-grays, the color of sky and water. Wood surfaces have soft painted finishes or a scrubbed-clean, natural wood look. "Cottage" styling is carefree living, where every element conspires to create a casual environment for comfort and relaxation.
This
cottage kitchen
features Antique White and Mineral painted cabinetry. These soft hues bring in the clean and simplicity of Cottage Style. As for hardware, bin pulls are a popular choice and make working in the kitchen much easier.
Request a FREE Brochure:
http://www.durasupreme.com/request-brochure
Find a dealer near you today:
http://www.durasupreme.com/dealer-locator
This photo has 2 questions
What Houzz contributors are saying:

"Though," she continues, "if counter and wall space is an issue, then I'd suggest storing knives in a wooden knife holder in a drawer closest to the workstation." With prescribed slots for each blade, these drawer inserts help prevent accidents while you're searching for the right tool.

2. Invest in proper knife storage. If you love to cook, chances are that you've spent a pretty penny on at least one good kitchen knife. But leaving it to rattle loosely in a
cutlery drawer
will dull and damage its blade – and pose a serious threat to your fingers.Kitchen knives should be stored in a way that keeps them separate and organized, with their blades horizontally oriented so the knife never rests on its blade. While my knives are currently housed in the block they came in, I plan to commandeer a little-used drawer and add a knife block like this one.
What Houzzers are commenting on: