Frank Organ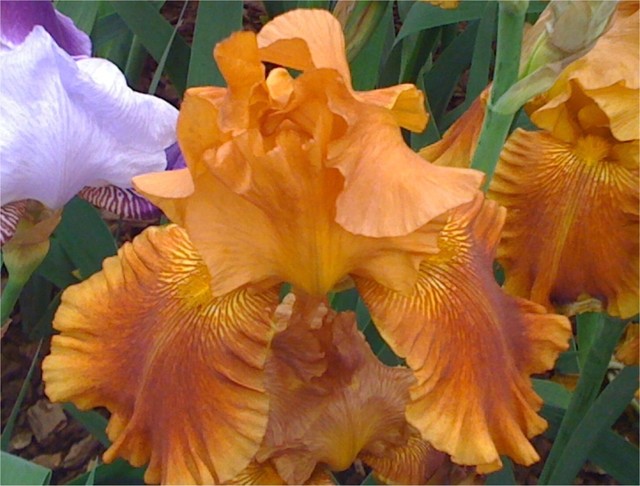 Bearded Iris Chelsea Flower Show 2010
Credit: Frank Organ
What Houzz contributors are saying:

There are bearded irises to suit all sizes and styles of gardens, and as with Monet's garden, selection of differing cultivars can either extend the flowering season or give you a blaze of color just when you want it.The season starts with the miniature dwarf bearded
iris
, which is the first to flower in April; it ends in late June or early July with tall bearded iris. Growing tip: Most irises need well-drained soil in full sun. To keep these irises at their best they should be divided and replanted in July or August every two to three years. Any poor or diseased plants can be discarded, while the best are replanted.

I also need to dig up my bearded iris plants, divide them and then replant with their knuckles visible. Overenthusiastic
mulching
has buried them too deep, so they didn't bloom well this year.

Bearded irises. These come in an array of sizes, but almost all have the same needs. Tall bearded irises, which bloom in midspring, grow from 2 to 4 feet tall. Most of the smaller ones reach a height of 8 to 28 inches, and the miniatures may reach only 2 inches tall. They're available in an overwhelming range of colors and can find a place in almost any garden. To grow, place bulbs in well-draining soils, starting in July (for very cold climates) through October (where winters are warm), about 1 to 2 feet apart, just below the soil surface. Point the leafy part of the rhizome in the direction you want the growth to head, water to get things started, then water cautiously until you see growth really start. Water regularly (unless the weather is at the freezing point) while the plants grow and bloom in spring until the flowers fade. They need little water in summer; maybe every couple of weeks if it's warm to once a month if it's cool. Fertilize when the plants begin to grow in fall.Aril and arilbred irises fall into the bearded iris category.The true aril iris can be difficult to grow; arilbred irises are similar to bearded irises for care, though they do need good
drainage
and alkaline soil.
What Houzzers are commenting on: