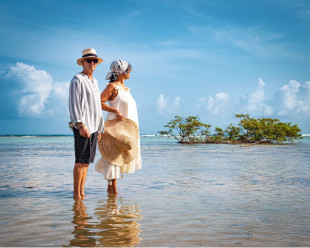 For over 20 years, interior designer Charmaine Benjamin-Werth has dedicated her career to designing visionary spaces exuding function, elegance and innovation. A professionaly-accredited interior designer, her true skill lies in a unique ability to meet the needs of her clients, while respecting and understanding the visions of the architect, engineer, and the accountant. Currently based in Antigua, she has a comprehensive and diverse portfolio having managed design projects for hotels, restaurants, ambassadors, heads of state, minsters of government, banks, medical providers, private residences and retail outlets.

Born in the island of Grenada and raised in Antigua, Benjamin-Werth studied interior design at the distinguished International Fine Arts College (now the Miami International University of Art & Design). As an aspiring interior design student, she interned with the inimitable Tessi Garcia, an indelible experience that paved the road for a successful career ahead. While living in the United States, Benjamin-Werth held posts as senior interior designer at major U.S. retail outlets including Bed, Bath and Beyond and Ethan Allen.

Nostalgic for her life in the Caribbean where interior design services had not fully evolved, Benjamin-Werth recognized an opportunity to fill a much-needed niche for design consultation in the region. She returned in 1997 to launch the first ever interior design department at the internationally renowned architectural firm, OBM Architects. At OBM, Benjamin-Werth was tasked with overseeing an expansive portfolio of commercial, residential and hospitality design projects. Her bold and expressive style was quickly respected within the firm, allowing her to design projects in Antigua, Anguilla, Dominica, Dominican Republic, Miami, St. Lucia, St. Kitts, Tortola, and Turks and Caicos.

In 2004, Benjamin-Werth and her architectural designer husband Kerry Werth launched d-studio, a venture that has allowed her the flexibility to pursue her own highly individualistic approach to interior design. At d-studio, the husband and wife team work in tandem to draw upon the region's uniqueness and diversity to offer an inspiring contemporary reinterpretation of Caribbean design. Her modernist style is evident in much of her work, which leans towards warm uplifting undertones characteristic of the Caribbean. Island Life Magazine aptly describes her work as "relaxed elegance with bold shots of color and texture, and expressive lighting with attention to art."

She and her husband Kerry live on the northern tip of Antigua in a remodeled beach-front home overlooking the Atlantic Ocean.
Contact:

Charmaine Benjamin-Werth

Type:

Interior Designers & Decorators

Address:

Jabberwok Drive, Hodges Bay, Box W 475,
St. John's,
Antigua and Barbuda

Phone:

(268) 461-2097

Website:

d | studio
likes a comment on a discussion

Review by
johnjl

:

I engaged Charmaine Werth to provide exterior and interior design services on a multimillion dollar contemporary luxury waterfront home. I found Charmaine to be... Sign in to see more »
Review by
hillcecile

:

Entirely professional and sensitive to client's needs and budget. Extremely prompt response to queries and changes coupled with strict adherence to timelines a... Sign in to see more »