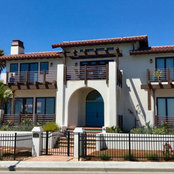 | | |
| --- | --- |
| | Craycroft Design |
Commented: How to improve this exterior?
The front door could use a trellis, say 6' wide and 4' deep, to frame it and give some articulation to the flat front of the house, and stained to match the wood door and windows. Add some landscaping...
Commented: The floor
The floor is stained, acid washed concrete. The doors are restored antique doors, cleaned and repaired but left in distressed state.
Commented: Need help with fireplace
It's a clean look as is but seems incomplete, think it could look good with a 6"x*8" mantle of the same or similar lumber as the doors, on the wall about 12" above fireplace and extending about 3" on ...
Craycroft Design
added 2 photos to Ideabook:
Modern
5 days ago
Craycroft Design
added 2 photos to Ideabook:
Beach House
March 8, 2019