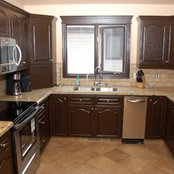 Brooks Carpet Clinic Ltd.
| | |
| --- | --- |
| | Brooks Carpet Clinic Ltd. |
Commented: Kitchen Cabinets
I was looking at the cabinets again and realized that refurbishing the existing finish may add the needed flare to make them more appealing. This would coincide with Bruce's comment suggesting livin...
Commented: End table for tight space
A triple drop leaf table. Turns into a triangle when all three drop leaf sections are down. Chose the direction of the triangle you prefer if the wood grain is a feature; then raise the back leaf for ...
Commented: Uneven drywall
Inquiry: Would you ssm5525, be able to email me the pictures? I would also ask, if you will; please forward your consent for them to be used for my articles. Thank you in advance, Ron
Commented: Please help with this powder room
Renovation is all about change. Challenges are part of the deal no matter the path chosen. As result, there are solutions to everything. To arrive at solutions that work best for any budget, one has ...
Commented: Need feedback for kitchen design
One more thing. The 33" corner would allow for an 18"bank of drawers instead of 15" as it appears. And a 15" upper instead of 12" between the upper corner and stove upper.