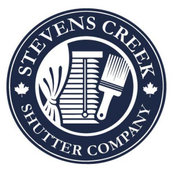 Stevens Creek Shutter Company
| | |
| --- | --- |
| | Stevens Creek Shutter Company |
Commented: Vinyl vs. laminate for basement family room
Another consideration with laminate in a basement space is that the concrete is often not level enough to meet the required specifications for a successful installation. For this reason vinyl plank is...
Commented: Window treatment suggestions needed
What's your view like? What's the exposure? What are you aiming for function wise, privacy, light control, insulation? These are just a few of the considerations in finding the right solution to your ...
Commented: Window Treatments and Picture Rail Moulding
Definitely I would look to install below the rail, leaving all that wonderful height on full display. Curtains do more than add privacy. They can soften, dress and compliment the architecture in a ro...
Commented: How hard should I pursue a certain contractor?
I'd say that whatever her perceived ranking of you as a potential prospect might be, what is most important here is that she made a commitment to get back to you, a couple of times, and didn't follow ...
Commented: Window treatments or no window treatments?
I love that there are as many opinions as there are options, it's just like real life! Anyway (if it's not too late), one of the things I always talk with clients about when they are considering &quot...