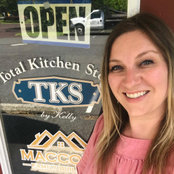 Total Kitchen Store by Kelly
| | |
| --- | --- |
| | Total Kitchen Store by Kelly |
Commented: Functional but boring, boring mudroom.
Heidon, that photo is from Pottery Barn: http://www.potterybarn.com/products/oversized-wood-gallery-frames/?pkey=caccessories-ledges-shelves. Sherwin William's "St. Bart's" or "Mediterranean" would be...
Commented: Help! My family room needs work!
Hi bryoan, I have been remodeling homes for years. For someone on a tight budget, I would recommend the first two things: paint and curtains. Those two things alone would change your whole room. Secon...
Commented: How can I decorate this corner?
Hi olena1968, maybe you could try some light color baskets or stacked books underneath the console? That way they can be removable if you need to turn on the heating unit.
Commented: Single guys can sort-of decorate too!
Your view is breathtaking! I would recommend bamboo blinds for you. They will allow some of that light in, but will allow you to sleep without the sun in your eyes. They can also be very masculine and...