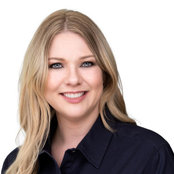 High Prairie Landscape Group
| | |
| --- | --- |
| | High Prairie Landscape Group |
Commented: Flower details
This is a tropical plant called a "Mandavilla". They like warm temps and a fair amount of moisture and sunlight. In cooler climates, they can be stored indoors over the winter.
Commented: what plants did you use in this landscape?
To soften the slope, we used a combination of Golden Moneywort, Lirope, and Catmint. The shrub you see is a dwarf Caryopteris perfect for a slope. Notice the Liriope along the stone steps will both so...
Commented: what kind of tree is this on the right?
This is a columnar form of Blue Atlas Cedar with a cultivar name of "Hortsmann". Does great in full sun and provides a much needed texture change in most landscapes! Grows slowly reaching a mature hei...
High Prairie Landscape Group
is following
J. Sand
5 days ago