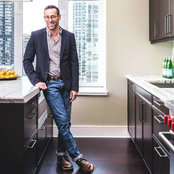 Michael Richman Interiors
| | |
| --- | --- |
| | Michael Richman Interiors |
Commented: Any info on the desk? Thanks!
Hi Steph- Sorry for the delayed response. That desk is very special. We found it in New York when we were searching for fabulous vintage pieces for this client's home. It's from the late 50's and the ...
Commented: Where can I find the artwork on the wall?
If you're referring to the colorful piece in the center of the image that's a painting from the 1960's. Its color and collage. I don't know the name of the artist but I can look into it. I imagine tha...
Commented: obsessed with fur
I'm obsessed with fur too and try to put it in every project. Those chairs are vintage and part of my collection so for the time being I want to hang onto them. But the fur is easy to get. We work dir...
Commented: Paint color
I love this group of colors. This happens to be Benjamin Moore Bear Creek, #1470. We had the painter use Aura Matt for the powder room. Good luck.
Commented: Where to purchase the floor covering
This is one of my favorite rugs. It's made of linen and there are shades of taupe, light blue and an accent of orange. The rugs are custom made to order (for size--not color) in Northern Europe so the...
Commented: Where did you get your lighting fixture.
Hi Susan- Thanks for your inquiry. That is one of my favorite pendant lights to use in an entry. It has a Deco sensibility and the polished nickel and alabaster are much prettier in person than this p...