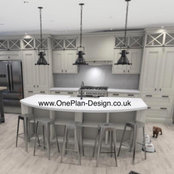 | | |
| --- | --- |
| | OnePlan |
Commented: Copper in kitchen design - yay or nay?
A bit late to the party here surely -this trend has been out for quite some time ! Look to Italy for the latest trends in kitchens ... send your buyers /R&D to the trade shows in Italy for what w...
Commented: Paint colour advice for period cottage holiday home
We are putting a Purbeck Stone Shaker kitchen with white worktops into a north facing kitchen we own in the depths of Scotland at the end of the month... there will be small elements of black (tap/han...
Commented: what plans do we need?
[Waves Hi !! ] Take your concept plans to a pre booked initial chat at the local council and ask them what more they need - from memory I don't think you are altering the footprint- ie not building on...