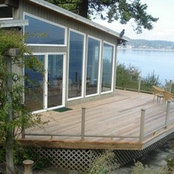 | | |
| --- | --- |
| | Ridgewood Renovations |
Commented: Need help deciding design of deck.
With a large open yard, consider a two or three level deck, which by stepping down creates it's own stairs. Or a rectangular deck, with the stairs at the lower side - to the left of the door facing o...
Commented: Need to spruce up deck!
You could have planters built along the edge of the deck, which alternate open areas for planting with closed sections for seating. Gives space for the plants but reduces the clutter.
Commented: Front yard re-landscaping HELP!!!
A small deck attaching to the stairs will give interest to the front of the house, and especially with some fabulous containers for plants.
Commented: Exterior issues!
Build a small juliet style balcony, to give some interest to the front of the house, preferably with some plants. Replace the door with a prettier glass door, to access the balcony.
Commented: Need help with ugly home exterior
Think about powder coated aluminum railings, in black, for the deck and stairs. It will give a much more contemporary look with the new grey color. The railings could be pickets, or better yet clear ...