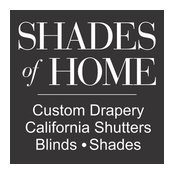 | | |
| --- | --- |
| | Shades of Home |
Commented: suggestions for working with a high window
You have a great view! I wouldn't consider drapery in such a small space. If all you are looking for is to 'sleep-in' and you need blackout, I would suggest a blackout honeycomb shade. You can moun...
Commented: What kind of window covering??
My Experience: Solar Shades (with either a 3" Fascia or Cassette) mounted on the trim. The shade will then drop close to the glass without taking up interior room. I see you have a soon to be ...
Commented: Dining room rug and decor help!
Rod Pocket Sheers are too casual for the space and the pattern detracts from the lighting fixture. I'd splurge on some solid organic textured side panels with a modern header style (Ripple-fold?), ge...
Commented: Curtain help
Definitely have the hardware mounted 6-8 inches above the frame. It'll add height to the room. Don't know what length or style of drape, but with the bed intruding into the window you really have no...
Commented: Solar shades
How far the handle projects into the room and how much depth you have is the first thing you have to look at when considering what window treatment is best, both functionally as well as aesthetically....
Shades of Home
updated their profile
February 12, 2019