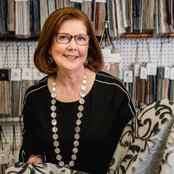 | | |
| --- | --- |
| | SK Designs |
Commented: What window treatment for close neighbors????
A treatment that allows filtered light and adds a decorative element would work great. Here are two photos showing a before & after example of a laser cut fabric used for the same purpose as you ...
Commented: Window treatment for new master bath
I like the top blue print one. It would look nice with your tile work and counter tops without being too strong or overwhelming. A nice complement to the room. I would recommend using interlining for ...
Commented: Lining for silk curtains
I offer two options for my clients who want blackout lined silk drapery panels. Option 1 is interlining and blackout lining. Option 2 is the French blackout method, which consists of 4 layers of fab...
Commented: Curtains
I agree with JMittman; mounting the treatment higher will take advantage of the great height that you have available and will look great and elegant.
Commented: bed in front of window
You can add a lovely window treatment behind the bed to add softness and continuity, as shown in this rendering.
Commented: Love this valance.
Yes, this is valance that is board mounted and attached to the ceiling in this bathroom. Cleaning is done with a vacuum attachment to remove dust.