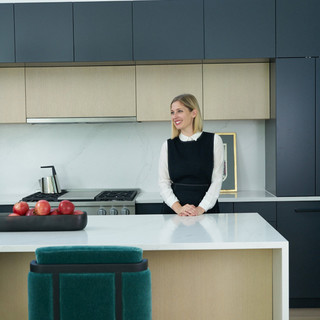 SLIC Interiors provides interior design consultation to residential & commercial projects. SLIC is a full service design firm, working closely with each client to create an original atmosphere which adheres to the client's lifestyle and personality. SLIC Interiors can be retained on an hourly basis at $75/hour or hired on a flat fee basis to manage all aspects of the project.

We focus on the details making the process fun and stress free for our clients. With an emphasis on the project timeline and budget, our clients rest easy.

Sara Cukerbaum is the founder of SLIC Interiors. Sara has worked as a designer at several prestigious residential firms including Eva Quateman Interiors in Chicago & Tocar Design in New York. She later returned to her home town of Austin where she founded SLIC Interiors. Sara's aesthetic is based on her love of sustainable and functional design.

In addition to the collection, SLIC Interiors is a full service design firm, also offering furniture restoration services to both designers and the public. Please visit the website to read the full list of services the firm offers.
Contact:

Sara Cukerbaum

Type:

Address:

Austin, Texas,
United States, 78722

Phone:

(512) 843-0835

Website:
Projects
Ideabooks
Professional Categories in Austin
Interior Designers & Decorators near Austin