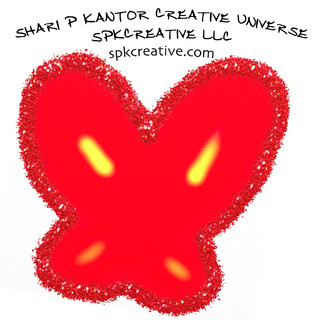 SPKCreative Abstract Art www.spkcreative.com
Abstract Artist and Creative Guru

Shari Kantor is an award-winning abstract painter who views the world as both her canvas and inspiration (www.spkcreative.com). Her acclaimed, vividly cheerful art has been shown in The Metropolitan Museum of Art and Times Square, and she has been featured in Target Audience Magazine. Shari's lively, affordable, original paintings vary in style and materials and are known for vibrant colors, hidden imagery and intriguing titles embedded in her art. She has her own product line of accessories, clothing, home goods and stationery (www.zazzle.com/spkcreative*). Shari also has fabric and wallpaper lines at www.spoonflower.com/profiles/spkcreative. She also provides color consultations for her clients.

Services Provided:
Abstract art and commissioned abstract art are created solely by Shari Kantor; no assistants are used at any point in the creation of her work. Shari also provides color consultation services.

Areas Served:
Paintings are shipped worldwide via UPS (except for PO boxes and military addresses). Color consulting services provided in Delaware, Maryland, New Jersey, New York, Pennsylvania, Virginia and Washington, DC.
Contact:

Shari Kantor

Type:

Address:

Available upon request,
Kingston, Pennsylvania,
United States, 18704

Website:

SPKCreative Abstract Art www.spkcreative.com
commented on a discussion


SPKCreative Abstract Art www.spkcreative.com
likes a comment on a discussion

SPKCreative Abstract Art www.spkcreative.com
commented on a discussion

SPKCreative Abstract Art www.spkcreative.com
updated their profile

SPKCreative Abstract Art www.spkcreative.com
likes a comment on a discussion

Projects
Ideabooks
Professional Categories in Kingston
Artists and Artisans near Kingston