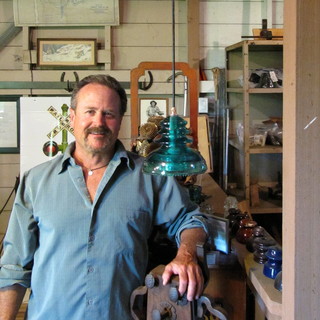 I am an architect, I design custom residential homes and work with contractors and developers on commercial retail projects.

I am lighting designer, manufacturer and inventor.
I design and manufacture custom upcycled LED and traditional lighting, hardware and home decor from common industrial products. I transform insulators, trafficlight lenses and railroad industrial parts into elegant and useful products that will stand the test of time one more time.

Services Provided:
Architectural design planning, custom design, lighting design, manufacturing, prototyping, industrial design, upcycling repurposing

Areas Served:
worldwide

Certification and Awards:
John Deere, Homestead Magazine Fall '12 "Salvaged Beauty" by Laura Read.
http://www.deere.com/wps/dcom/en_US/industry/residential/our_offerings/homestead/homestead.page
Contact:

Tim Leefeldt

Type:

Address:

236 W. East Ave Chico, CA,
Chico, California,
United States, 95926

Phone:

(530) 774-5880

Website:

Railroadware
uploaded 2 new products


Railroadware
uploaded 9 new products

Railroadware
is following
Schultz Development Corp
,
R.J. Gurley Custom Homes
,
Est Est, Inc.
,
Ownby Design
,
SilverLeaf Custom Homes / Interiors by KM
,
Aspect Fine Homes
,
Crisp Architects
,
Palm Design Group
,
BERGHOFF DESIGN GROUP
,
Bess Jones Interiors
,
Jean Macrea Interiors, Inc.
Projects
Ideabooks
Professional Categories in Chico
Lighting near Chico