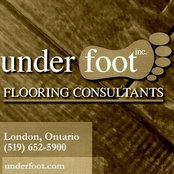 | | |
| --- | --- |
| | Under Foot Inc. |
Commented: Transition from floor to stair
Hi there, I'm not sure of your thoughts on cladding the stairs in hardwood flooring, or possibly just the treads if you're wanting to paint the risers. You could find a hardwood that compliments if n...
Commented: Need to pick grout color in 6 hours!
A subtle grout colour that blends with the tile will look clean and fresh with a stronger coutertop--TEC standard or bright white perhaps if you can access them. Rebecca, good work is all I can say. ...
Commented: Need help choosing the kitchen backsplash and stools
Stunning kitchen! I would bring in some warm wood tones in the stool selection, and what do you think of penny rounds for the backsplash? They'd work well with your sink, bring in another dimension o...
Commented: Need wall tile advice for powder room
I like it as is too. With the tiles installed vertically you only have the two horizontal grout joints and the vertical joints are barely noticeable at all as they run with the pattern of the tile. I...
Commented: Ronne home owner
We certainly do carry it--Ebony from the Van Gogh Collection. Recommended retail is $4.85/sf but we can usually chisel that down depending on required quantity. By all means shoot us a call or email ...
Commented: would this floor look ok in mid century house!
Hi there! The Van Gogh line has a nicely textured woodgrain appearance that is more easily maintained than smoother, higher sheen finishes. I'd think it might compliment warm wood tones and white wa...