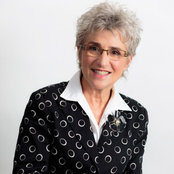 | | |
| --- | --- |
| | Elizabeth Minish Design |
Commented: BACKSPLASH - Do any of these work?
What else is going on in your kitchen and for that matter, the rest of the house? The tile on the left looks too white/bright to work with the granite. The other two work well for colour, but if this ...
Commented: family room drape dilemma
Your stated goal is "softening the room". I think it will be difficult to get there with window treatments because of the asymmetrical windows which will only draw more attention to them no ...
Commented: Dining Room Chairs: upholstered or wooden
The other reason to do the simple upholstered parson's chair is comfort. Very important in a dining chair. A dining table doesn't have to match the side board, but it makes things quite a bit easier....
Commented: What color Garage doors?
I'm with those who think emphasizing garage doors is . . . not a good idea. There doesn't seem like there is going to be enough other wood trim on the house to make wood doors a reasonable option (an...
January 12, 2019

in Paint
Commented: Barn door for Laundry
When you say "in a laundry room", do you mean "on"? Assuming you the latter, I'd say go for it. It solves many problems in small spaces if the wall area that it covers when open d...