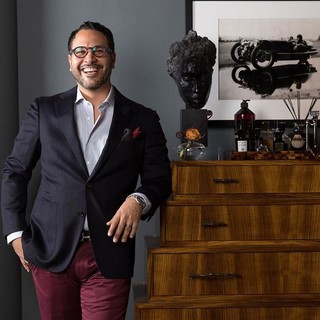 Michael Habachy is an acclaimed interior and furniture designer based in Atlanta, Georgia, and Doha, Qatar. His design firm, Habachy Designs, Inc creates atmospheric interiors for a wide range of commercial and residential clients, nationally and internationally. His projects range from trendy restaurants and nightclubs to chic spas, boutiques and glamorous residences. Local, national and international publications have all featured his works.

Michael's style is timeless and modern, yet he gives each project its own unique punch of creativity and originality. His specialty is designing eclectic interiors that seamlessly blend the unexpected. He always creates drama in a space while maintaining a minimal approach, selectively choosing elements to achieve maximum impact. This trademark gives Habachy Designs its signature style.

Services Provided:
Interior and Furniture Design
Residential & Commercial Design
Spa and Salon Design
Nightclub Design
Restaurant Design

Areas Served:
Working on projects internationaly.

Certification and Awards:
Nominated as South Eastern Designer of the Year by Veranda magazine.
Work featured in MODA, Museum of Design Atlanta
Selected to participate in the Decorator's Showhouse 2011 & 2013
Received cover story in TRENDS Bath magazine
Published inmagazines, (nationally and internationally).
Contact:

Michael Habachy

Type:

Address:

434 Marietta St. Loft #406,
Atlanta, Georgia,
United States, 30313

Phone:

(404) 220-7597

Fax:

(404) 589-9499

Website:

License #:

# 143096LGB

Habachy Designs
commented on a discussion

Habachy Designs
updated their profile

Habachy Designs
commented on a discussion


Habachy Designs
commented on a discussion
Reviews by Michael Habachy (1)
Review for
Stone Decor

:

Stone and Decor is one of my favorite suppliers of "high quality" stone tiles in the South East! Bassem, the owner, has been in the business for as long as I h... Sign in to see more »
Projects
Ideabooks
Professional Categories in Atlanta
Interior Designers & Decorators near Atlanta