Jatropha Podagrica - Buddah Belly Plant, Gout Plant, Tartogo: ?s
Hello everyone,
I don't often post in this particular forum, as I don't have too many true tropicals that are not at least somewhat cold hardy, such as Windmill palm, and a few different varieties of Banana that are corm hardy here in my area / zone.
One of the few true tropicals I do have, is also my favorite plant, and its the Jatropha Podagrica. I have posted a few pics of it below. I have had this plant for 2 and 1/2 years now and it has done fantastically well. It was only about 8" tall w hen I got it, but it is now nearly 2 feet tall. It has always been healthy, and has produced blooms just about year round, and true to form, blooming more prolifically during the summer months, and not so much in winter. It has yet to lose ALL of its leaves during winter however. It usually holds one to three leaves during winter. Right now, its going though its big summer growth flush and has 8 leaves, with more on the way, and one blooming bloom spike with another on the way. While it blooms profusely, it has yet to produce any of the "popping" or "exploding" seed pods. One other thing I have found odd about this plant, is that it has stayed with just one singular trunk, and has not branched. I know that when they age / grow, they do tend to produce at least one or two more branches.
My questions about this plant are as follows: How does this plant pollinate? Do I need to have two plants ( one male, one female) to do this? Or does this plant carry blooms of both sex and one plants blooms can pollinate eachother? I would like to get some seeds of this great plant, but to date, I have been unsuccessful. I have attempted to research this plant, but I have found no thing on propagation other than it can be done via seeds or, some places say cuttings.
Secondly, can this plant in fact be propagated by cutting, and if so, where along its stem should it be cut, and, will cutting it force it to produce branches?
Thanks for any help!
There are 3 photos below. The first one was taken in August of 2006, the latter two were taken TODAY. You can see how much it has grown in the almost 2 years between photos.
Thanks again!
~ NPG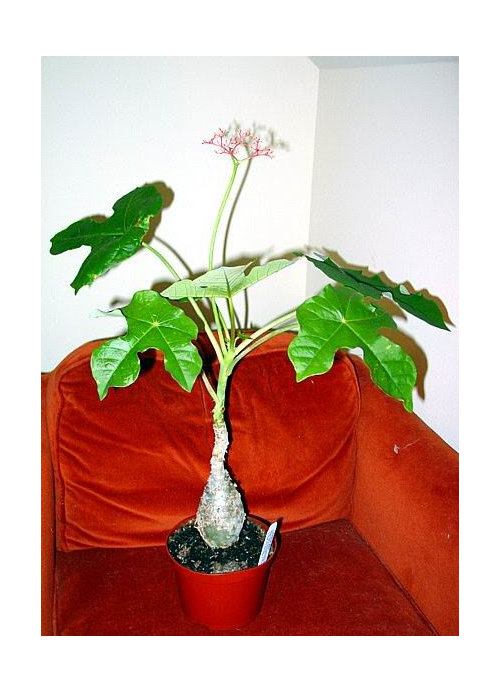 {{gwi:1312392}}