Guest Picks: 19 Kitchen Upgrades for When You Can't Afford an Overhaul
My husband and I have owned two houses together. The first one was built in 1953 and had all of the age and none of the charm of the era in the kitchen: old wooden cabinets, cheap linoleum over the old original flooring, a rusting metal sink — you get the picture.
Our second house was built in 1990, and while a few of the appliances had been updated before we moved in, it still had many of the just-out-of-the-'80s touches you'd expect in a kitchen from 23 years ago: dark wood cabinets with brass pulls, a builder's-grade drippy faucet, cream vinyl one-piece flooring and the original paint.
In both cases my husband and I wanted to add some kitchen updates, but we were on a tight budget. Instead of major overhauls, we used accents and accessories to modernize the outdated kitchens, and they worked well. Hopefully you can find some of these ideas as useful and budget friendly as we have over the years!
— Liza from (a)Musing Foodie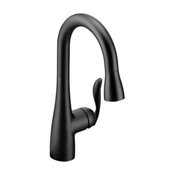 Moen Arbor Single-Handle Pull-Down Sprayer Kitchen Faucet, Matte Black
$189.00
Consider a black finish for updating your kitchen. It looks especially good against a light palette of colors.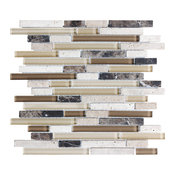 Brown Beige Tones Wall Tile
$10.98
After I finish painting my kitchen the nice pale blue, I plan to use tiles like this behind the countertops. I love the thin shapes and the varying warm earth tones.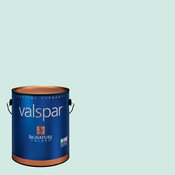 Valspar Gallon Interior Semigloss Bay Mist Paint and Primer in One
$34.98
Light blue semigloss paint is the color I'll be using to brighten up my kitchen (it's currently red). The semigloss means it's super wipeable, which is what you want for kitchen walls.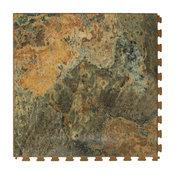 Perfection Floor Tile, Imperial Gold Slate
$71.94
Commercial-grade vinyl tile with a mottled finish is a great way to improve the kitchen floor at a fraction of the cost of real ceramic tile. This particular kind doesn't even need glue!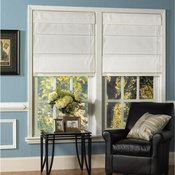 Snow White Thermal Fabric Roman Shades
$40.00
My kitchen has French doors that lead out to the back deck. My husband and I pulled off the '90s mini blinds, and my plan is to replace them with simple Roman shades. These are thermal, which will help with the strong sun we get for most of the day.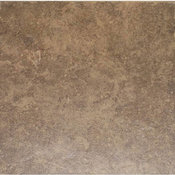 Style Selections La Balantina Brown Ceramic Floor Tile
$0.98
If you do want to go with ceramic tile, there are plenty of inexpensive options out there. This beautiful, warm-toned tile is less than $1 per square foot.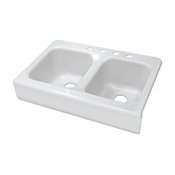 Lyons Double-Basin Apron Front/Farmhouse Acrylic Kitchen Sink
$288.16
As far as farmhouse sinks go, this one is considered budget friendly, even if the $200-plus price tag seems high. I love that they're divided and that the basins are deep — even if the depth means sacrificing cabinet space below.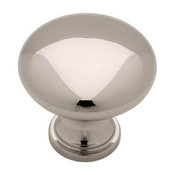 Liberty Round Cabinet Hardware Solid Knob
$2.99
I used these knobs to make the kitchen cabinets in both homes feel more modern. Their simple, understated lines go with a variety of cabinet styles and finishes.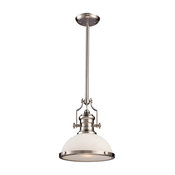 Elk Lighting 66123-1 Pendant
$264.00
Updating light fixtures is a simple way to update a room, especially a kitchen. Consider this pendant with polished silver accents as one focal point, and then add simple, less expensive lights to the rest of the space.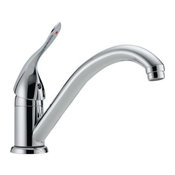 Delta Classic Single-Handle Kitchen Faucet, Chrome
$81.27
Chrome is a great timeless finish that adds clean lines to the sink.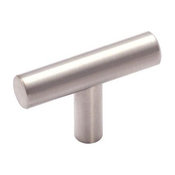 Amerock Stainless Steel T-Knob
$5.97
Freshen up your drawers and cabinets with stainless T-knobs. I love how simple the lines are!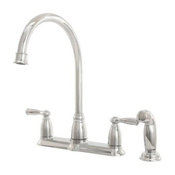 Moen Banbury Two-Handle Kitchen Faucet, Chrome
$109.00
This faucet has classic lines and makes things like filling a big pot with water a breeze.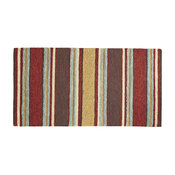 $69.95
This rug will bring a little vibrancy to your kitchen. Plus, it's machine washable, which is perfect for a cooking area.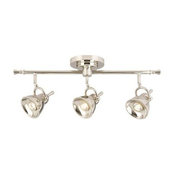 Hampton Bay Three-Light Brushed Nickel Fixed Track
$79.96
This is not the track lighting of the '80s! Spruce up your kitchen with a beautiful brushed nickel fixture, and light up exactly what you want to with the adjustable heads.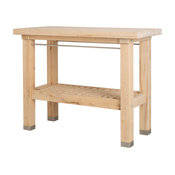 $269.00
A freestanding, moveable island can bring charm and extra workspace to your kitchen.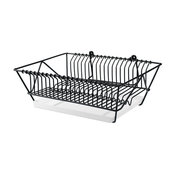 Rework your counter space by moving the drying rack to the wall. Clever!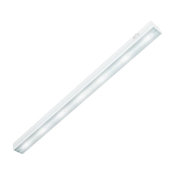 Utilitech Hardwired Cabinet LED Light Bar Kit
$69.35
Adding under-cabinet lighting can really brighten up a dim, old space and give it a feeling of modern airiness.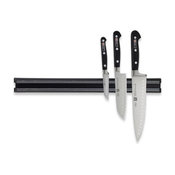 Zwilling J.A. Henckels Magnetic Bracket
$24.99
Get your knives out of the drawer or knife block, and hang them on this magnetic bracket. l love mine; it hangs right on the wall behind the stove.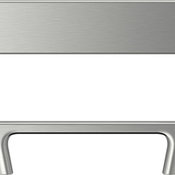 Nickel-plated drawer and cabinet pulls are very sleek and modern.Next: Try a Shorter Kitchen Backsplash for Budget-Friendly Style