2019 Interior Design Trends
With the new year approaching, it's time to start thinking about which trends will influence interior design in 2019. We predict the year's new home décor trends will offer a mix of timeless and contemporary themes that bring comfort and personal style to the forefront. From embracing natural materials, to breaking the rules with furniture shapes, statement ceilings, and bold kitchen colors, there's something for everyone in this ideabook!
There will be a shift to darker kitchens, as we see less of the all-white look, and more color. People still crave a kitchen with bright, natural light, but we're seeing darker colors on cabinets and backsplashes for a dash of personality. This dark green counter to ceiling tile backsplash elevates the energy in this kitchen without overwhelming the overall design. https://bit.ly/2qWV3Ml (Design by Lucy Penfield, Photo by Photographer Spacecrafting)
Historically, ceilings have been kept unadorned, but in 2019, ceilings will be treated as blank canvases for adding bold colors, patterns, and even textures. While a statement ceiling can serve as a work of art, it can easily create a busy room design if it competes with other eye-catching elements. We recommend pairing a statement ceiling with a striated, neutral carpet like our Leontes Lineage style by Dabbieri to balance the room's look. http://bit.ly/2yY8EpH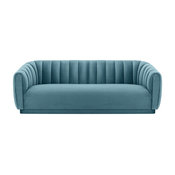 Arno Velvet Sofa, Sea Blue, Sea Blue
$999.00
We love the curved furniture trend that is taking shape in 2019 because of its versatility and accessibility. You won't have to look hard to find a curved mirror, chair, stool, or dresser to integrate into your home's design. We predict velvet curved couches like this number by MOD will be a popular choice for homeowners next year.
Curved furniture designs that originated in the 80's will make a comeback in 2019 and bring a softer, organic look to homes. Contrast your curvy furniture with a geometric patterned carpet that has soft edges, like our McCormick carpet by Dabbieri, to cultivate a contemporary, homey feel. http://bit.ly/2yY8EpH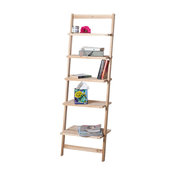 Lavish Home Five-Tier Ladder Blonde Wood Storage Shelf
$84.00
Keeping in step with the natural décor trend, light wood furniture is going to be a popular choice in 2019. We recommend integrating a light wooden piece that has some height, like this tall ladder shelf by DCG WholeSale, so you can brighten and open up your space.
Natural materials have been trending in interior design for a while and that's not going to change in 2019. It explains why there has been a resurgence of the Scandinavian style, which is known for clean color palettes and natural accents. We love this all natural, 100% green Copan carpet by Dabbieri because it's soft and screams Scandi style! http://bit.ly/2yY8EpH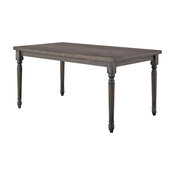 Weathered Lookinhg Dining Table, Gray
$274.54
A timeless dining room table is a great investment that will be part of your family gatherings for years to come. We like this gray wood table by Benzara because it blends easily with any décor.
There's been a shift towards people choosing home décor that will stand the test of time. By keeping core pieces like your flooring timeless, it allows for small accents to be updated seasonally. Our textured, neutral Mabelle carpet from the exclusive Louis A. Dabbieri Diamond Collection will be a staple in any timeless design. http://bit.ly/2yY8EpH