40 Fun Gifts for Your Pet-Loving Friends
There are so many ways to pamper your pet we've lost track, but we've rounded up 40 ways to do it with scads of style. Admittedly, a lot of these gifts are for dog and cat and bird's best friends (sorry all, we didn't really get into reptiles or rodents here, because frankly, seeing pictures of either of those critters freaks me out). Anyway, you know those pet owners, the ones who will be way more thrilled with a gift for Spot or Whiskers than one for themselves, who make their dogs wear sweaters, who refill the bird feeder every day and yell at squirrels who try to get in on the birdseed action? These are the people in the bullseye of this gift guide target. Because most of these gifts are geared toward home decor and owners, keep in mind that some of the best gifts you can give your pet are free: love, pats, walks and attention.

We'd love your great gift finds, in fact, a few of the ideas here came from the Houzz community! Add a link to your best idea for the perfect pet gift in the comments section and tell us why you love it. The Houzz member with most creative idea wins a $50 gift card to Petco. And be sure to come back tomorrow for our next guide to the most stylish gifts of the season!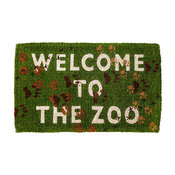 Welcome to the Zoo Delightful Doormat
$34.00
This doormat is a great place to pause and take off muddy shoes, wipe down mucky paws and remove leashes. It will also warn visitors what they are in for once the door opens! Made of 100% coir Thick and durable $34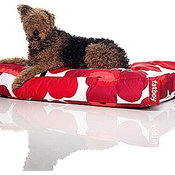 Doggielounge Marimekko® Fatboy
$179.00
This pet pick comes from Houzz team member Annie, who says, "Every dog deserves a designer bed to nap on. And this one is big enough and stylish enough that it would be difficult to prevent me from napping on it side-by-side with my dog." 48" x 32" $179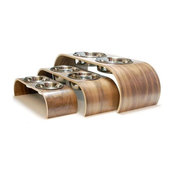 Series 2 Double Raised Feeder
$118.00
Houzz contributor Debbie Snider says, "this raised feeder will fit right in with any modern decor, and your pet will be dining in style!" It comes in various finishes like bamboo, cherry, and wenge Starts at $118
If your friend cares about her furniture but cannot seem to keep Fluffy off the new sofa, this microfiber pet throw is for her. Even if Fluffy is trained to stay off the furniture, it can give her pet extra comfort in the car, crate, or on the dog bed. BONUS: You can add a monogram (look closely to see the "MAGGIE" in the picture). High-quality spun polyester between the microfiber fabric on one side and nonpilling, high-napping Berber™ fleece on the reverse side. Washable Medium (chair): 48" x 56" ($79) Large (couch): 50" x 100" ($139)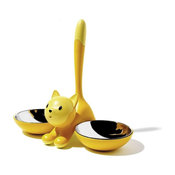 tigrito cat bowl by miriam mirri for alessi
$90.00
This is my new favorite pet bowl. It's such a punch of cartoon fun to have on your floor instead of plain old food and water bowls. BONUS: Because the tail serves as a handle, you don't even have to bend all the way over to pick it up when it needs it a refill. Polypropylene and stainless steel, this piece is destined to become a classic. Tigrito is available in four colors and each bowl holds 9.5 oz of food or water. 11.5" W x 11" H x 6.25" D $90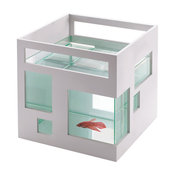 Teddy Luong for Umbra Fish Hotel
$25.00
This is so much cooler than the boring goldfish bowl I had as a kid. This fish hotel is only $25, so if you want to get super-fancy, buy two. They are stackable, which means the bottom one can be the lobby and the top one can be a Randy Gerber V.I.P. bar called SkyWater or Whiskey Bowl. Glass fishbowl with a white ABS shell Glass bowls may be removed for easy cleaning 7.5" x 7.5" x 8" Fish not included $25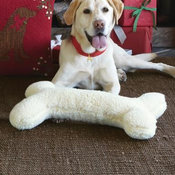 $18.00
It's big. It's fleece. And it squeaks. OH BOY! Polyester fill. Machine wash 22"W x 12"D x 6"H. $18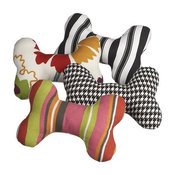 Set of 4 Dog Bone Toys – Set of Four
$38.40
I don't even have a dog and I want these just to throw around my house. They are some sort of dandy bow tie–dog bone hybrid. Set of four dog bone toys: one of each style 6.75" W x 5" D x 1.5" H 100% cotton polyester $38.40 (Set of 4)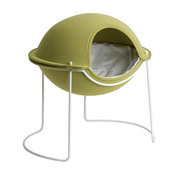 Pod Bed in Spring Bud Green
$99.00
Houzz team member Lily says, "Hepper's pet pods ensure your dog or cat's home is as stylish as your own. And with a sherpa-lined interior, they're also as comfortable as can be for your furry friend." For cats and small dogs. Holds up to about 50 pounds. Check the measurements to be sure your critter will fit. Overall size 20.5" W x 20.5" D x 20" H, interior is about 16" in diameter Door is 8" W x 7.5" H, bottom of door is 11" from the floor $99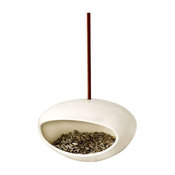 Handmade Birdfeeder by Perch!
$108.00
This shapely ceramic birdfeeder will make birds and aesthetes happy: It's a lovely piece of art hanging from the tree. Just think of your loved one looking out the kitchen window and spotting a beautiful cardinal eating breakfast from it. Low-fire ceramic, non-toxic glaze Natural leather cord tanned with vegetable-based dyes 7" diameter x 5" tall. Hangs from a 36" leather cord. Holds about 2 cups of bird seed. $108.
This leash is so stylin' that you're giftee will want to hang it out in the open, so it can be enjoyed as a part of the home decor. 100% cotton fabric with chocolate brown and pumpkin orange checks, backed by chocolate brown webbing. It is finished with a durable nickel swivel snap hook. Stress points are triple stitched for maximum durability. Width: 3/4" or 1" Length: 4 ft or 5 ft $32.00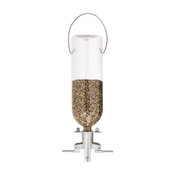 Audobon Soda Bottle Bird Feeder
$10.95
Who knew a plastic 2-Liter bottle could transform into something so beautiful? They supply the bottom and the hook, you supply the empty 2-liter. Zinc alloy H 3.5" W 5.5" D 1.25" $10.95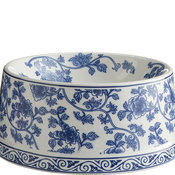 Blue and White Porcelain Pet Bowl
$24.65
Why should Fluffy have a tacky plastic bowl? Why should Fluffy's mom have to look down at it? This lovely porcelain bowl is the antidote to the pet bowl eyesore problem! Ceramic Holds 14 ounces of food 8" dia. x 3.5" H $24.65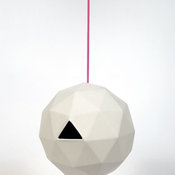 $95.00
Houzz friend Ali of Asiz's Child says, "the minimalist/modern Kelly Lamb Gio Birdhouse is inspired by the geodesic dome popularized by architect Buckminster Fuller. Yes please!" 8" W x 88" H x 8IA" D $95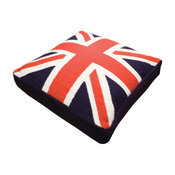 $245.00
If your dog's pedigree started in England, this Union Jack dog bed is a must. It's the right spot for Nigel the English Bulldog to perch while he watches the Will and Kate wed. Poly-fill stuffer. These can also be ordered in any of J.A.'s wool color combinations. 32x32x4 22x22x4 $245.00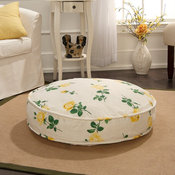 Carleton Varney Hillandale Rose Pet Bed
$39.95
Let's face it: This dog bed is so pretty that no animal should ever be let near anywhere near it. I suppose that is what a removable cover and Oxyclean are for - it's too fabulous to pass up! Removable cover with 60" zipper for easy laundering Color Choices: Pink, Blue or Yellowgreen Approx. 5"H x 30" in diameter 250 thread count 100% spun cotton sateen; fill: 100% polyester $39.95 (HSN Clearance - HURRY if you want it!)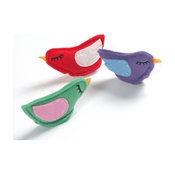 Felt Catnip Tweety Bird Cat Toys
$21.00
Your cat will go absolutely bananas over these catnip Tweety Birds, but they are so cute that seeing them scattered around the house won't drive you bananas. Potent organic catnip + a velcro pocket for catnip refills. 3 1/2" wide; available in kelly green, cardinal red + cool violet. Sold separately or as a set of three Set of 3 ($21)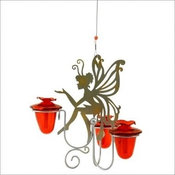 Fairy Dust Hummingbird Feeder
$32.99
There's something about seeing a hummingbird that makes one stop and say "Ohhhhh!" Help someone find that excitement more often by feeding those crazy little birds. 9.25 inches length x 7 inches width x 4.75 inches height Estimated Ship Weight: 2 pounds $4.98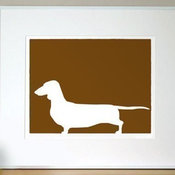 Mod Dachshund Print 8x10 by ModDogShop on Etsy
$20.00
Thanks so much to Houzz community member willizee for suggesting these ModDogShop pet silhouette paintings. Obviously, they are more of a present for the pet owner than the pet, but aren't all pet gifts? 8x10 Mod Dachshund Print - 8x10 Sweet and lowdown in chocolate brown Fine art prints are hand-drawn, printed on acid-free 100% Cotton Rag Paper with non-toxic inks, and are suitable for framing All prints are signed and dated by the artist. $20.00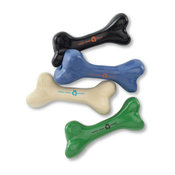 $12.00
Houzz team member Sheila chose these clever sustainable dog bone toys made from leftover chew toy rubber scraps. They also have holes in them so you can fill them with treats. Everybody wins! 100% "regrind" first-quality Orbee-Tuff® material that would otherwise be discarded 6.5" long Black, Purple, Ivory Swirl, Green, and Lemon Yellow $12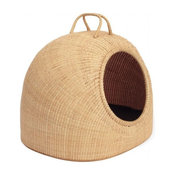 Contemporary Pet Supplies
$67.50
Several Houzz team members emailed me this gorgeous woven pet bed as their favorite pet gift. It's Shaker style modern (is that an oxymoron? Somehow with this basket, it's not), and cozy for your favorite critter! Removable fleece lining provides enduring (and machine washable) comfort for your pet. Crafted from woven rattan, it has a modern shape to blend seamlessly in a wide variety of interiors. Wood base means it can be safely placed on any surface. Handle on the top makes it easy to pick up and move. H 15" W 17.5" D 14" Wood; rattan reed; fleece. $67.50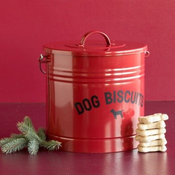 $28.00
This gift is actually exactly what Fido wants: TREATS! Plus, they come in a super cute tin you'll be happy to leave out (as long as he's not smart enough to open the lid). Enameled tin is packed with 4 pounds of chicken-and-liver biscuits, made with healthy, high-quality, all-natural ingredients, including wheat germ, flax seed meal, brewer's yeast and rolled oats. 8-3/4" Dia. x 11". $28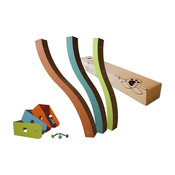 Marmalade Wall Flower Scratcher
$42.00
If your cat is anything like mine, she'll love these scratchers ALMOST as much as she loves scratching up the side of that designer sofa. Recycled cardboard, 35-percent-minimum post-consumer, with colored microflute end-panels. Non-toxic adhesives. Made with ecologically friendly materials. 100% recyclable at the end of its lifecycle. Can be attached to a wall with optional wall clips, sold separately Symmetrical design allows for reversibility 35" L x 3.5" W x 4.5" D $42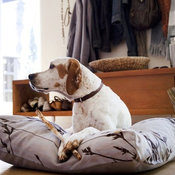 $103.00
This dog bed is for the pet owner who prefers more of a nature-inspired print. Speaking of nature, it's made of a hemp fabric/certified organic combo, water-based dyes and stuffed with polyester made from spun recycled bottles. Thus, it's not only pleasingly pretty, it's pleasingly green. 55% hemp 45% certified organic cotton, printed with non-toxic, water-based dyes. Filled with a high-quality polyester fiber generated from spun recycled bottles. Printed and sewn locally in Los Angeles. Small: 4 H x 19 W x 25 L ($103) Large: 4 H x 25 W x 37 L ($133)
Crypton Doodle Dog Bed, Persimmon, Medium
$130.00
This bright dog bed is eco-friendly, resistant to all kinds of yucky stuff (stains, moisture, odor, bacteria...let's just leave it at "drool"), and best of all, is so doggone cute it will make your favorite dog owner smile. Yes, I just said "doggone." I couldn't help myself. Cover: 100% Polyester. Fill: 100% Recycled polyester. Made in the USA. Easy to spot clean, machine washable, and with a self-healing nylon zipper. Small: 18 x 24 x 4 ($99) Medium: 27 x 36 x 5 ($130)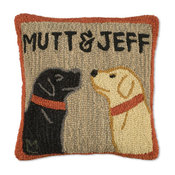 Personalized Labrador Dog Pillow, Pillows
$125.00
This is a totally fun, personalized gift for that person who is just a little too crazy about their dog (is there such a thing?). Several designs available with the name/names of your pets! 11 characters max Velveteen zipped back 100% New Zealand wool / poly-filled insert Spot clean or dry clean 18" x 18" $125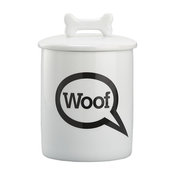 $19.95
Every time your favorite dog owner makes a move toward this jar, his dog will go bonkers with glee and anticipation – be sure to warn him about that before he chooses where to display it. BONUS DETAIL: The handle is shaped like a Milk Bone. Throw a box of those inside before wrapping this up. White porcelain canister features graphic "Woof" thought bubble in black 100% porcelain 6.5" Dia. x 9.5" H Dishwasher safe $19.95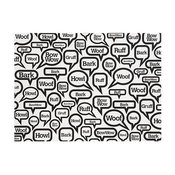 $2.95
This little mat that will save your giftee's floor from pet bowl spillage is cute without being too cutesy. The barks make it the former, the cool graphics save it from the latter. 98% polypropylene, 2% ink Clean with a damp cloth $2.95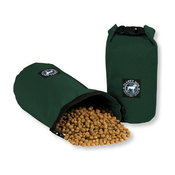 $19.00
Sometimes pet owners need to travel with their furry pals, and lugging around a torn bag of Iams they bought in bulk at Costco can be a total drag. These travel pouches keep pet food fresh, contained and compact. Fabric is a tightly woven polyester blend made from recycled plastic Holds up to 7 lbs. $19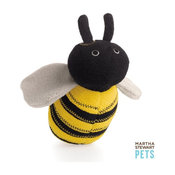 Martha Stewart Fleece Chew Toy
$7.99
I'll fess up. I picked this toy soley because it reminds me of a braces-clad Parker Posey freaking out over a missing Busy Bee in "Best in Show." It is super cute, and it's Martha-Stewart-endorsed, so why not? Polar Fleece $7.99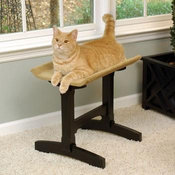 Mr. Herzher's Single Seat Feline Furniture
$84.99
All a cat really wants is to be able to look out that window, and she'll mess up any furniture underneath, scratch the heck out of the moldings, and push screens out from her seat on the windowsill to do it. Just give in and buy her a birdwatching perch. Protective felt pads prevent scratches, chips or dents on floors Lounging area is 20" X 13" Full dimensions: 20.5" L X 16" W X 18.5" H Raised edges & plush cushioning cradle your cat in comfort. Upholstered in neutral, soft and durable micro-fiber suede fabric. $84.99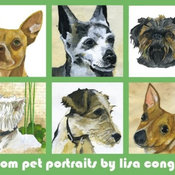 Custom Pet Portrait by lisacongdon on Etsy
$180.00
Thanks to Houzz team member Lily for passing along this very personal and creative gift. Send artist Lisa Congdon a digital picture of a beloved pet, and in 2-4 weeks she will send you back a custom portrait! 8"x10" portrait $180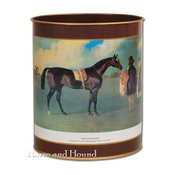 Thoroughbred Metal Waste Basket
$65.00
Horse lovers tend to love the equestrian look in every room. If you know one, chances are she'll love this vintage racing scene waste basket. Heavy metal burgundy oval can. Both top and bottom on can are trimmed in gold. Can is lacquered and sealed for durability. 11.25" tall, 9.5" wide. $65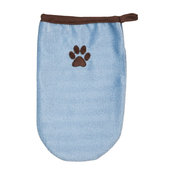 Dogs Unleashed Light Blue Pet Hair Mitt
$5.94
Sometimes pet owners do not realize that their visitors are always getting covered in unwanted pet hair, and after awhile, no one wants to come over anymore. This hair removing glove is a nice strong hint and a good stocking stuffer. Instantly attracts & removes loose pet hair Thumb hole feature for easy use One Size Fits All 6" W X 9.5" H $5.94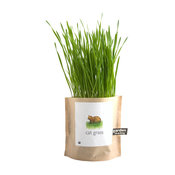 Garden in a Bag: Cat Grass
$9.00
Grow pretty wheat grass in a windowsill, then snip off clippings to feed your cat as a treat or as a garnish on her Fancy Feast. It's a nice plant for both of you to enjoy. Plastic-lined kraft-paper bag, soil, organic seeds dimensions: 6" wide x 7" tall x 3" deep $9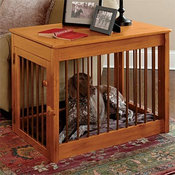 Wood Dog Crate / Wood/Metal Deluxe Dog Crate
$375.00
Let's face it: Most pet crates are REALLY ugly. This one is made of handsome pine and doubles as a side table. It's a major improvement upon those wire and plastic things. Who wants to look at that in the living room? The bottom of the crate is coated with a rubberized paint to protect the wood from liquids. Wood and metal Medium 24¼"H x 30" x 21"W, dogs up to 50 lbs. ($375) Large 27¼"H x 36"L x 24"W, dogs 50-90 lbs. ($450)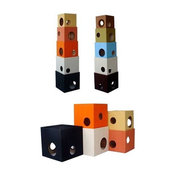 $299.00
Most cat condos involve some shade of beige wall-to-wall carpet, odd shapes, ropes, and are, in a word, hideous. Thank goodness for this geometric climb condo in a nice modern color palette! Constructed of wood and cotton fabric Five stackable cubes with holes placed for climbing $299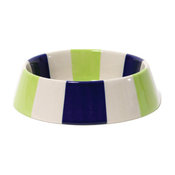 $50.00
This pick is for the pet owner who is also a Jonathan Adler fan. If you are feeling very generous, buy one for water and one for food so that your giftee will have a matching set. High fired stoneware Small 7.5" x 2" $50 Large 10.5" x 3" $78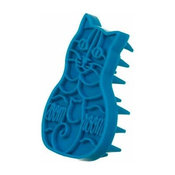 KONG Cat Zoom Groom Brush
$5.47
I have it on good authority from a loving Maine Coon named Miss Bubbs that this is her very favorite brush. It massages your cat while getting rid of all of that excess hair. BONUS: If used regularly, it saves the floors and furniture from fur. Constructed of soft, pliable rubber Easy to grip and use Removes loose hair $5.47