Guest Picks: Ghoulish Goods for a Spooky House
I love Halloween!
It's my favorite holiday for so many reasons.
It's low stress and fun, for starters.
And the decorating opportunities are endless:
You can adorn your home with cute ghosts and black cats or go the scary route and display a bloody hand with some eyeballs on a silver platter.
I tend to go for the scary stuff, because my kids are older — and boy, is it fun!
Halloween is scary, spooky and magical. I think that deep down we all like to be a little spooked. Why are horror movies still so successful? And vampire books? Maybe we just want to believe the magic is real. So put on Michael Jackson's "Thriller," grab some candy corn and check out these ghoulish goodies for your home.
— Karen from A Stylish Interior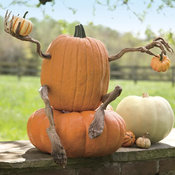 Posable Pumpkin Vine Arms and Legs
$29.99
How is it possible that I do not own these pumpkin decorations? I am terrible at carving pumpkins and usually paint them. The posable vine arms and legs would add the creep factor I love, and I wouldn't have to paint a thing.Next: Goth Glamour for Halloween and Beyond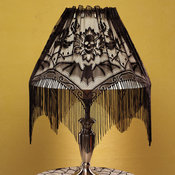 Halloween Lampshade Topper
$39.99
I'm all about adding ominous touches around the house for Halloween. This lampshade topper creates the right mood for Fright Night.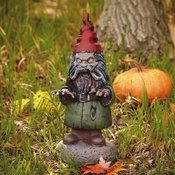 $16.99
Even the friendly garden gnome can turn ghoulish. This guy will scare anyone who dares to enter the garden.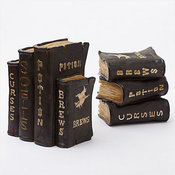 $38.00
Add these bewitching decorative spell books to your bookcase, and put a glass-encased candle in front of each set to cast an eerie glow on them.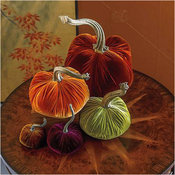 Decorative Velvet Pumpkins
$35.00
I like the texture of these velvet pumpkins with creepy twisted stems. They would add a little twist to your Halloween decor.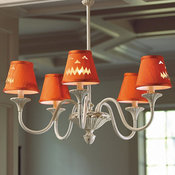 Jack-o'-lantern Chandelier Shade, Orange
$18.00
Who isn't scared by the traditional jack-o'-lantern face? Imagine these on your chandelier with the lights dimmed. Totally scary.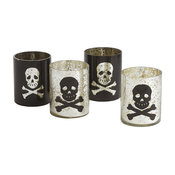 Crossbones Votive Holders
$19.00
Little skull and crossbones votives are the perfect hostess gift or decor to set the table aglow for a frightful evening.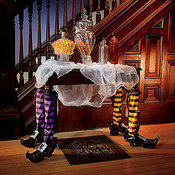 Pair of Halloween Witch Table Legs
$16.99
These fabric leg covers are so much fun. Slide them over your dining room table legs — and hope your table doesn't run off.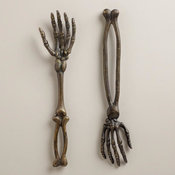 $19.99
I simply must have a set of these skeleton hand servers. Imagine serving up spaghetti with some bloody marina sauce.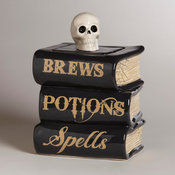 $12.99
This set of three "books" is a cleverly disguised cookie and treat jar. I think it is actually quite stylish. Just lift the little skull and enjoy a treat — at your own risk.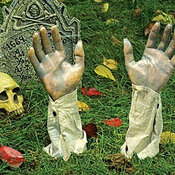 $15.99
The dead are rising from their graves — in your lawn. Run! Add a couple of gravestones and maybe a skull or two to complete the scene.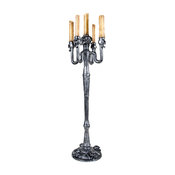 $109.99
I love the large scale of this standing candelabra. I'd position it in the foyer to set a spooky tone for the night.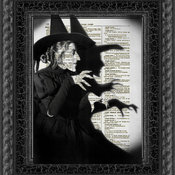 Wicked Witch Dictionary Art Print by Reimagination Prints
$10.00
I love this artwork. It instills a fear in me that the Wicked Witch really is coming to get me — and my little dog too.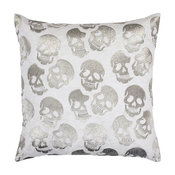 $79.95
Toss a couple of these pillows on occasional chairs. The shiny silver skulls will reflect candlelight.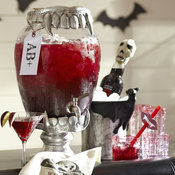 Vampire Teeth Drink Dispenser Stand
$69.00
Whip up a blood-red punch to serve in this vampire dispenser. Add some frozen gummy worms for extra creepiness.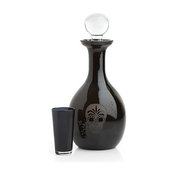 $39.95
This gorgeous decanter would make a ghoulish statement on a bar, or even just as an accessory with a few creepy spiders crawling around.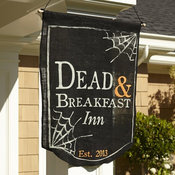 Dead & Breakfast Inn Flag
$49.50
This is not your typical Halloween flag. Wouldn't it be a great way to "welcome" guests? Enter — if you dare.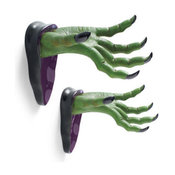 Set of Wall-Mounted Spooky Hands
$29.00
These hands look like they are reaching out of the wall. Put them in your foyer to hold guests' cloaks or hats. Or you could hang a ghost or two from them.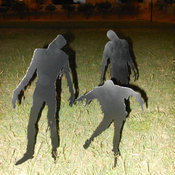 Halloween Zombies by Grizzly Custom Steel
$65.00
Mini metal zombies in the backyard? Genius. Position a low light on these guys to really creep everyone out. Gosh, I love to scare people!