Guest Picks: Gifts for Bicycle Fans
I am married to an avid cyclist. He is obsessed with cycling and thoroughly enjoys the sport. When the weather is fair, he spends his spare time riding his bike, and he rides not only for enjoyment, but for the thrill of the racing scene. I spend many weekends cheering him from the sidelines as he tries to stay in the peloton. There have been many victories and defeats, but nonetheless he lives, eats and dreams bikes!
I believe a home should reflect those who live in it, so we have a few cycling-inspired decor items. I want him to feel like the family respects his love of the sport. As my homage to my cycling-obsessed hubby, here are 20 gifts for those who adore their bikes and the thrill of the sport.
— Barbara from Markova Design
My husband already has a wooden iPhone case, but I think he would love this one even more.Next: Bike-Chain Chandeliers You've Got to See
I love this photograph! You can choose the size of the print; I would get it as large as possible. It would look awesome hung on its own.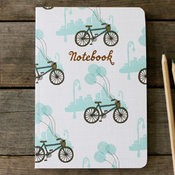 No. NB104 Bicycle Notebook
$9.00
How about this cute bicycle print notebook?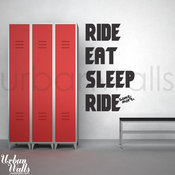 'Ride Eat Sleep Ride Some More' Decal
$45.00
This vinyl wall decal describes my husband perfectly. If he could, he would ride, eat, sleep and ride some more.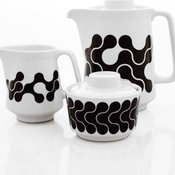 $64.95
With a nod to midcentury style, this chain link–inspired tea set is perfect for the cycling enthusiast.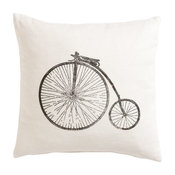 Block-Printed Antique Bicycle Pillow
$119.00
How about paying homage to the first bicycle style? This pillow cover would be a great addition to a bedroom or living room.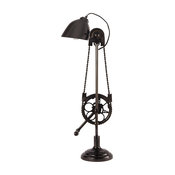 $399.00
I love this lamp. With a vintage, steampunk look, it would definitely be a conversation piece.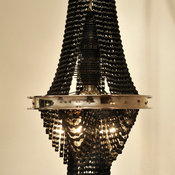 Reclaimed Metal and Bicycle Chandelier by Facaro
$1,800.00
Even I would let this hang in my home. It's hard to believe that this chic chandelier is made from bicycle parts.Learn more about this artist's chandeliers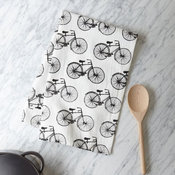 $9.00
Maybe these dish towels will get my husband to do the dishes.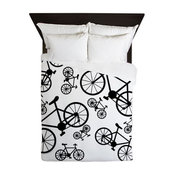 Bicycles Big and Small Queen Duvet by Not Just Shirts
GBP 98.00
For a more graphic punch, this bedding would work for both the guys and the gals.
$29.00
I love this bedding. It's subtle and not too over-the-top, making it perfect for that bachelor pad or teen boy's bedroom.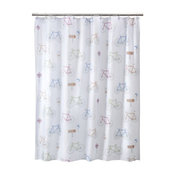 $24.99
Yes, you can even bring your bikes into the bathroom!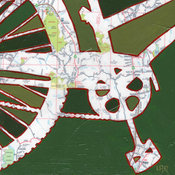 Bike Napa Valley Print by Off the Map Art
$17.00
This artist creates bicycle art using maps. How cool is that?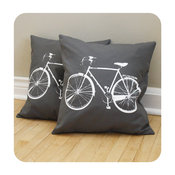 Bicycle Pillow Cover, Gray by Boomerang 360
As a fan of screen prints, I love the simplicity of these pillows. They're the perfect way to add a pop of whimsy to a sofa.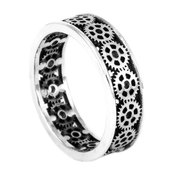 Sprocket II Ring by Machina
My husband doesn't always wear his wedding ring, because it cuts into his skin, but maybe he would wear this one.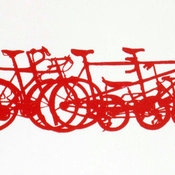 Bike Stack Mini Art Print
$25.00
We can never have enough cycling art in the house. Here is another fabulous piece to hang on the walls. I love red, so this is a no-brainer for me.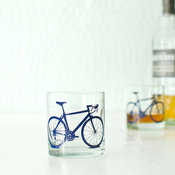 Bicycle Screen-Printed Old-Fashioned Glasses, Blue by Vital
$28.00
I love these drinking glasses. They're perfect for the summer patio or for that shot of scotch on a cold winter's night.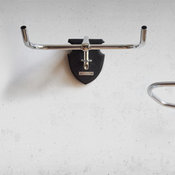 GBP 450.00
Eek! I just stumbled across this amazing idea: bicycle taxidermy. We all know antlers are the accent du jour, but how about this fabulous twist?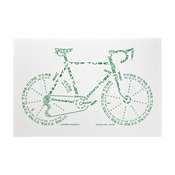 Bicycle Typogram #6 Limited-Edition Print
$49.00
I bought this print for my husband a few years back. We are both lovers of typography, so it was a perfect fit for our wall.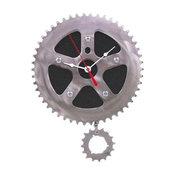 Recycled Bicycle Chainring Wall Clock
$64.95
Because I live with an avid cyclist, these kinds of parts are always lying about the house and garage. I love how they were used to create a chic and slick clock.