Guest Picks: Red Accents With Vintage Flair
I love a home with vibrant accents of red here and there. Vintage and vintage-inspired accessories in red offset neutral pieces and bring warmth and interest. Whether you're adding vibrant hues or muted and worn tones, the color red will make your space red hot!
— Melinda from Melinda Reyes Lifestyle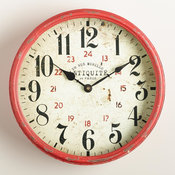 Modern Daphne Kitchen Clock: Red Metal
$31.99
This distressed metal kitchen clock makes my heart flutter! It has the perfect patina, and the worn red color is just gorgeous. It's definitely on my wish list.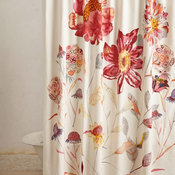 Morning Blossom Shower Curtain
$88.00
This beautifully vibrant shower curtain from Anthropologie would be a fantastic piece to greet you in the morning. I love the big and bold flowers.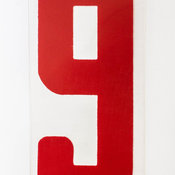 $8.00
I love adding interesting and unique pieces to my home. This vintage "9" sign would add a fabulous pop of red and a bit of uniqueness.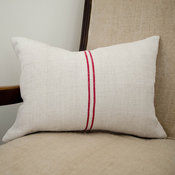 Red Stripe Grain Sack Pillow
$85.00
The natural hemp and the thin red stripes on this grain sacks pillow would add wonderful texture to a sofa or chair.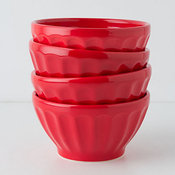 Latte Bowls, Fire Engine, Set of 4
$20.00
What can I say; I have a thing for latte bowls, and these cherry-red ones are fantastic.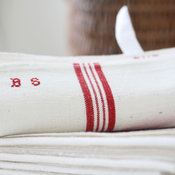 Antique French Red Striped Tea Towel by Passé Simple
$31.23
This beautiful vintage French torchon, or tea towel, is simply wonderful.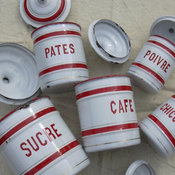 Enamel Canisters From St. Servais, 1940 by My Nifty Brocante, Set of 5
$197.33
These gorgeous vintage French canisters would add interest and color to a kitchen. They are perfect for keeping bags of treats and candies within easy reach.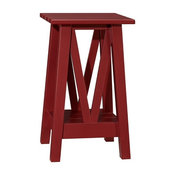 Farmhouse Side Table, Sun Valley Red
$149.00
This vintage-inspired farmhouse table from Pottery Barn Kids would look wonderful and add some color to a room.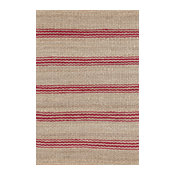 Dash And Albert Jute Ticking Crimson Woven Rug, 3'X5'
$162.00
This beautiful rug from Dash & Albert has a great texture, and the bold red stripes add color and depth to the design.
$2,737.00
This settee is gorgeous, with its grain sack appearance and red stripes.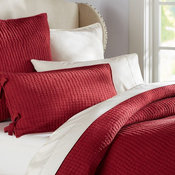 Pick-Stitch Quilt, Cardinal Red
$129.00
Add wonderful richness to a bedroom with this pick-stitch quilt.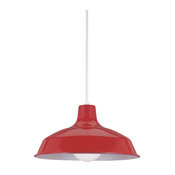 $95.90
Try a set of these bright red pendants over a farmhouse table or above the kitchen sink.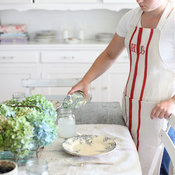 French Farmhouse-Style Grain Sack Apron
$110.00
This vintage grain sack apron brings a whiff of France. Hang it on a hook in the kitchen for a vibrant pop of red at all times.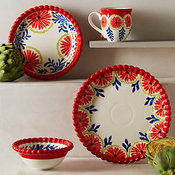 $20.00
I absolutely adore this stoneware dinnerware. I love the bold and vibrant colors, and of course the red makes them all stand out. These are perfect for summertime dining.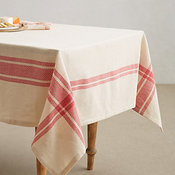 $78.00
This bistro tablecloth brings a farmhouse vibe, and the lovely red stripes have a nostalgic summery feel.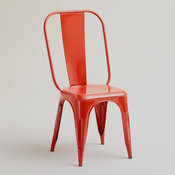 Red Orange Cargo Chairs, Set of 2
$199.98
These vintage-inspired cargo chairs would add vibrant color and a vintage feel.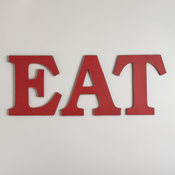 $49.99
What's a kitchen without an "Eat" sign? This one in red would add that perfect splash of color.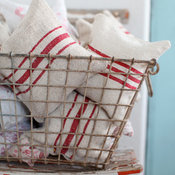 Red Stripe Grain Sack Lavender Pillows
$25.95
Not only do these vintage grain sack lavender pillows smell heavenly, but they also have those classic stripes of red.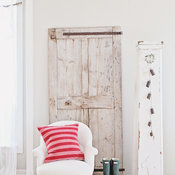 Vintage French Ticking Pillow
$175.00
This beautiful pillow is made from vintage French ticking fabric. I love the combo of the red and pink stripes.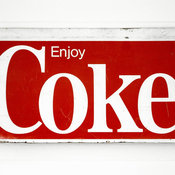 $78.00
This large Coke sign has throwback appeal and would add interest and color to neutral walls.Next: Have Your Own Red Carpet Moment Anytime