Guest Picks: Affordable Kilims in Colors for Everyone
I scream, you scream, we all scream for … kilims. I am one of the masses of people having a love affair with kilim rugs right now. Their unique, colorful, tactile designs elicit an emotional response whenever I see them. And they clearly age well, as almost all the traditional kilims out there are vintage. The only thing I don't love: the typical hefty price tag. So I set out to find some affordable kilim pieces. These 20 finds are no more than $275 each (some are less than $20!) and still ride high in colorful style.
— Jen from The Haystack Needle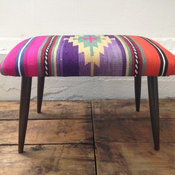 $275.00
Barrington Blue is my current obsession. At the top of my wish list is the company's kilim bench with vintage tapered wooden legs. It's custom made in your choice of bright or muted colors — I'd choose bright.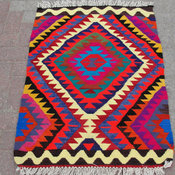 Vintage Handwoven Turkish Kilim Rug by Mister Pillow
$148.00
This eye-catching Turkish kilim is on the smaller side, but it packs a big shot of color. And the design features the classic diamond pattern in bright colors of woven wool.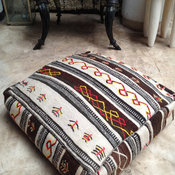 Moroccan Kilim Pouf Cover by Bazaar Living
$139.28
Every living room could use another pouf that doubles as an ottoman or extra seat. This handmade pouf cover is crafted of vintage kilim rugs in a more traditional white-on-brown color palette. You provide the insert.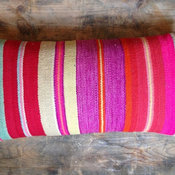 Pink Stripe Frazada Cushion
$180.00
While I typically don't spend more than $100 on an accent pillow, this striped kilim piece has a killer color palette that reminds me of fruity summer Popsicles. It's one pillow I would invest in just for the bright dose of color it would bring.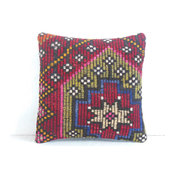 Turkish Kilim Cushion by Decolic
$15.95
This handwoven 16- by 16-inch Turkish kilim pillow cover ships straight from Turkey — maybe that direct-to-consumer model explains the affordable price tag. This woven wool and cotton piece is a stunner.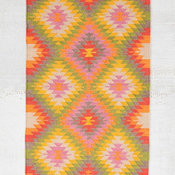 Magical Thinking Chloe Diamond Kilim Rug
$99.00
Leave it to Urban Outfitters to be on trend in an affordable way. For those who prefer a new rug, this diamond kilim is a good choice; it features a happy sorbet color palette and has a great price.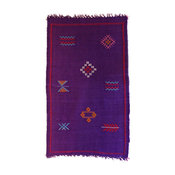 $80.00
Truth be told, the description for this kilim says it's actually a Berber rug. Anyone know the difference? Either way, this purple rug is seriously calling my name — you just don't see a saturated purple rug like this every day (and at this price!).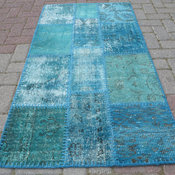 Vintage Overdyed Turkish Area Rug by SofArt
$179.00
I'm not over the look of overdyed patchwork kilims, especially when the rug is less than $200. This handwoven, naturally dyed piece is swimming in a sea of pretty blues.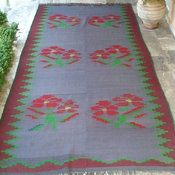 Antique Kilim Rug, Floral by Vintage Home Stories
$261.11
A floral kilim is a rare find. I love this 1930s extra-long fringed rug that's more subdued with a gray background and hand-stitched red flowers. It'd be a flirty piece for a bedroom.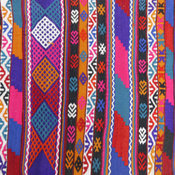 Vintage Turkish Kilim Rug by Turkish Crafts Arts
$199.00
If you can't afford a large kilim, you can place a couple of smaller ones by the side of the bed as soft spots of color. This vintage Turkish handwoven rug features vivid Southwestern colors that are sure to make a statement.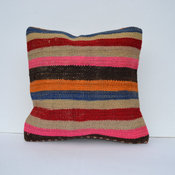 Handwoven Kilim Pillow by Omerfarukaksoy
$14.00
Stripes forever. It's so awesome to see that you can decorate your sofa with a beautiful handwoven kilim pillow for the cost of a lunch.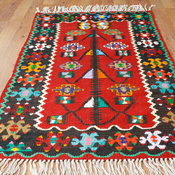 Turkish Kilim Anatolian Rug by Turkish Museum
$245.00
This handwoven Turkish kilim reminds me of the Persian carpets that I grew up with in my old house. This sizable rug squeaks in at just under $250 and has free shipping — cha-ching!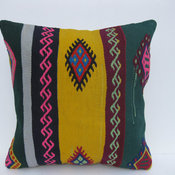 Bohemian Turkish Kilim Throw Pillow by Arasta Bazaar
$12.50
I guess it's true that trends do come back around, as this vintage kilim pillow features a color palette that's so right now. Bright accents of pink and yellow on a muted background? Yes, please.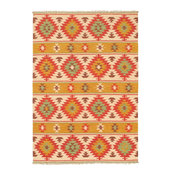 Flat-weave Izmir Kilim Cream Wool Kilim 4'6" x 6'7"
$156.00
Have you browsed the kilim selections in the Houzz Marketplace? There are some standout finds, including this wool Izmir kilim with earthy Southwestern colors and a bold graphic pattern.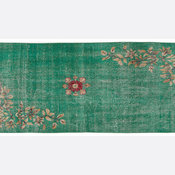 Vintage Green Handmade Overdyed Rug by Unique Rug Store
$247.00
This kilim runner proves that green can be chic. This vintage faded emerald rug would make a wow statement in a hallway. And the edges are hand sewn — talk about pretty details!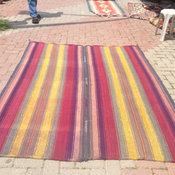 Anatolian Turkish Classic Kilim Rug by Pergamon Art
$180.00
I love the history of kilim rugs. This 40-year-old striped one was made by Turkish nomads using naturally dyed wool.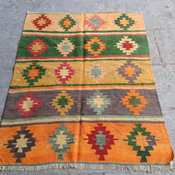 Tukish Diamond Kilim Rug by Kaya Kilim
$175.00
On Etsy you can find a vast selection of kilim rugs straight from Turkey and elsewhere. This one spoke to me because of its color palette; it reminds me of a desert oasis.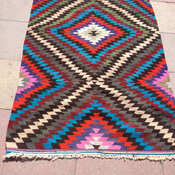 Vintage Turkish Kilim Diamond Rug by Pergamon Pillow
$139.00
I like the idea of layering a few small kilim rugs together in a large seating area in a living room. It's a perfect solution for a tight budget, as 8- by 10-foot rugs can give you sticker shock.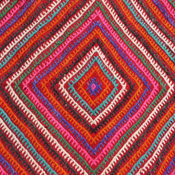 Vintage Turkish Kilim Rug by Turkish Crafts Arts
$195.00
Who says you have to use a traditional doormat in your mudroom? This colorful kilim number would be a fun way to welcome you home. I love its eye pattern made up of striped vivid colors (made using vegetable dyes).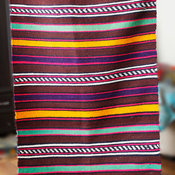 Turkish Kilim Anatolian Rug by Turkish Museum
$145.00
This kilim might be my favorite, thanks to its plum-based color palette. And it just feels good to decorate with unique finds of true artisanal quality — this Turkish rug took weeks (or maybe even months) to make. Yet it has the same price as something you'd find at Pier 1. Personally, I'd rather put my dollar toward a handmade piece.Next: The Beauty of Contrast: Traditional Rugs in Contemporary Spaces