$356.00
Corrugated cardboard has come a long way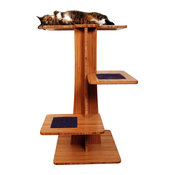 $495.00
I love how the platforms are big enough to laze on and have a comfy pad on each.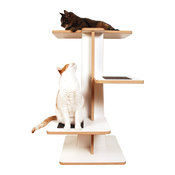 $275.00
Nice cat tree that is stylish.
Love the stairs around the scratching post and the upper platform
I love the two sets of stairs to the upper ledge
The two tunnels that start under the tub deck
Yea! I love the colors and fun.
This really is an eat-in kitchen!
I love how the cat's needs are just like people's.
Similar to what we did with one litter box. It's part of everyday life yet hidden
Part of an elaborate system
The stars and tunnels integrated into bathroom
Overall view of how spectacularly real this looks