Guest Picks: 20 Sconces for Under $100
First of all, allow myself to introduce myself. My name is Jenny, aka MFAMB, and I like wine. I write a blog called My Favorite And My Best. It's a design/lifestyle/dumb blog and I use bad words on it sometimes (a lot of times). I have had to clean this paragraph up approximately 743 times. And my grammar is bad on purpose. So don't hate on it, smartfaces!
This is my first Houzz contribution. Please delight in it.
I call this one: I Love Sconces. Here we go...
I would work the streets for a good sconce. Even a bad one sometimes. I don't care if it's wrong, it's just how I roll. I love sconces. When I pore through blogs and shelter mags I find the rooms with sconces in them draw me in like a housewife to jellybeans.
Lighting is one of the most important elements to a beautiful room and sconces are a great way to layer the light. A sconce can just be a practical lighting solution or add an element of mystery to a dark corner. A simple, inexpensive sconce with a bright shade can bring a useless and/or dull section of a room to life. I have found with my spidey senses 20 (TWENTY) delightful sconces for under 100 bucks.
From this day forward everyone needs to be more sconcey.
—Jenny from My Favorite and My Best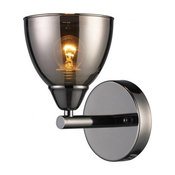 Black Chrome 1-light Wall Sconce
$46.99
This is pretty badass. It reminds me of the Caleb Siemon elbow sconce, only that one is a kajillion dollars. This one is under $50.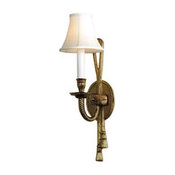 $129.00
This pretty little French-y gold tassel sconce is timeless and looks like a million bucks. Would be great in a bedroom, bathroom, hall, dressing room or even a library.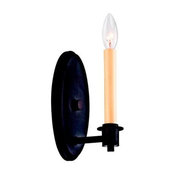 Bronze Simple Oval Back Wall Sconce
$69.00
This one is perfect in its simplicity. Use it everywhere. I love this one especially for its ability to work in a modern space or a traditional one, and everyplace else in between. I see these lining a hall with pale gray walls and stone floors. Gorgeous.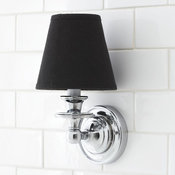 Nash Candlestick Sconce Base
$79.00
For me this one is best used in a bathroom. A much better option to have two of these flanking your mirror than ugly builder grade overhead lighting.
Super-chic with it's industrial-ness. I am a fan of these as bedside sconces, so long as the bed is super girly. I am all about the contrast... and cake. But that's another ideabook all together.
These things are big and would make a statement. The shape is cool and would be super awesome in a Moroccan-inspired room. I would fancify that shade a little bit.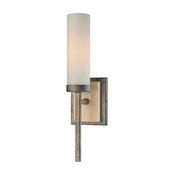 MinMinka Compositions Collection 15 1/4" High Wall Sconce
$65.91
These are modern and interesting. I want to see them in a slightly rustic, cabin-y bathroom. City meets country. Word.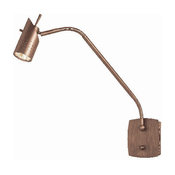 Access Lighting Odyssey Wall Mounted Task Lamp in Bronze
$68.40
I dig this a tremendous amount. Again, with this industrial vibe I tend to want to use it in an unexpected way, like in a little girl's room.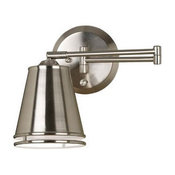 Kenroy Home Metro Swing Arm Wall Lamp in Brushed Steel
$87.45
Your modern country kitchen called and wants you to order these.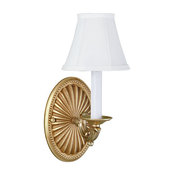 French Gold One Light Wall Sconce With Shade
$70.20
Mmm... lots of these all around the room. Cozy.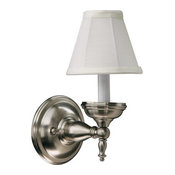 Ashton One Light Satin Nickel Sconce
$35.00
Super affordable, non-offensive shape. If satin nickel is your thing, cool. But if I were you I would spray them matte black and take off the shade. Much cooler.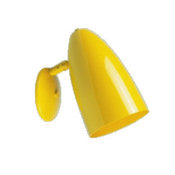 Spun Metal Lighting from Hip Haven
$55.00
A yellow sconce? Yes. Duh.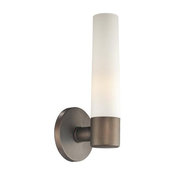 George Kovacs Bath Art Collection 12 1/2" High Wall Sconce
$94.91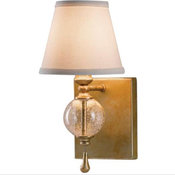 Murray Feiss Argento Collection 11 3/4" High Wall Sconce
$83.99
These are cool and whimsical and completely glamorous. They totally look more expensive than they are, don't you think? DON'T YOU!!!??????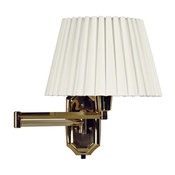 Kenroy Traditionas Polished Brass Swing Arm Wall Light
$84.91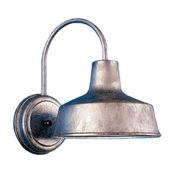 $109.00
While I get that this is technically an outdoor sconce, I would totes use it inside either in a kitchen over a sink, in a fun little breakfast nook, in a hall over a door or over a bathroom sink.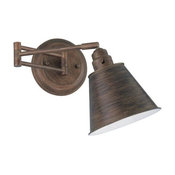 Lite Source Hancock Light Bronze Swing Arm Wall Light
$87.91
A study? A bathroom? Bedroom? All of the above, sillies!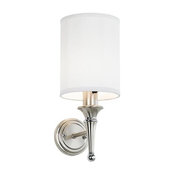 Contemporary Brushed Nickel Finish Plug-in Sconce
$89.99
Another chic bathroom choice.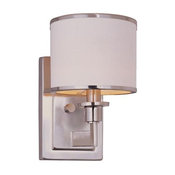 $59.00
A modern twist on a classic design. Where COULDN'T you put this?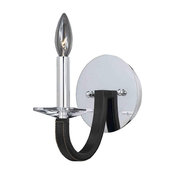 Oxford 1-light Chrome Wall Sconce
$75.99
Sexytimes. Next: More guest blogger product picks