Second Time Around: Repurposing Your Wine Bottles
During the holiday season, doesn't it seem everything goes down a little better with a sip of wine? (Ok, maybe not just during the holiday season.) Regardless, with the holidays in full festive bloom, you're bound to have a few empty wine bottles around the house after a gathering or two. Instead of tossing them into recycling bins, consider how you may be able to repurpose them around your home. Between their unique shades of glass and artful labels, empty wine bottles can be just as distinct as full ones in the rack. Take a glance at the following photos to discover some new ways to rethink your wine bottles. Bottoms up!
We've all popped that bottle of champagne or opened that aged bottle of wine for a celebratory event. Remember those times by framing the cork in a shadow box. Memories for years to come!
What's a great finishing touch to any built-in bar area? A cork backsplash. It provides fabulous texture and certainly fits the bill.
Don't forget the cork! Collect them and create whatever your heart designers. This DIY'er used a shelf liner, hot glue and 175 wine corks to create a bathmat.
When you have a wine bottle opener as cool as this one, who cares if the bottle is full or empty! It will always appear super chic.
Riddling racks are just as charming with empty wine bottles as they are with full. Intersperse empty within the full: the light will bounce off each differently, creating a unique visual display.
In many cases, the same types of displays created with unopened bottles of wine work just as well with empties. Instead of tossing the bottle that you pull and finish from this line-up, stick it right back where it came from. The glass itself will carry its own allure, and hopefully each empty bottle a story to remember.
I know these are small liquor bottles on these shelves, but how cool would it be to see lines of empty wine bottles against a backlight?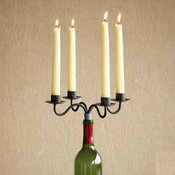 WINE BOTTLE CANDELABRA, SET OF 2
$35.00
This specific wine bottle candelabra is sold at Sundance, but you can easily make one yourself at home. That's the great thing about wine bottles: they can double as anything from candle holders to vases.
Even empty wine or water bottles set in a row have a sense of charm to it. You can either use all the same type of bottle, or mix in several varieties for more of a vignette look.
Need a chandelier? Make one out of wine bottles! This homeowner cut the bottoms of the bottles, threaded wiring through the necks and suspended them from an old window shutter. Very clever, indeed!
Dying to add texture to a bathroom? What about a wine-bottle backsplash? Use a variety of bottles and colors for a mosaic-like feel.
Yep, you're looking at a bottle tree. Who'da thunk? But it's really a clever, interesting idea. Simply hang empty bottles on branches of a tree, and suddenly you have a very artful display. Recreate it indoors with a multi-peg standing coatrack.