10 Ways With Wall Lights That Don't Need to Be Wired In
Learn how to add illumination to your home without carving into the walls
When renovating a home, it's easy to forget certain final touches. And once the paint has dried and the carpet has gone down, wiring in light fixtures often just isn't an option, for both hassle and expense reasons. Another solution, however, is to invest in stylish wall lights that don't need hardwiring and that can be added pretty much wherever you need lighting. Check out these ways to use them in your home.
Wickenden Hutley
1. Clamp them onto a ladder.
A storage wall ladder placed snugly between two single beds (or two flanking a double bed) is the perfect vehicle for clipping on a wall lamp or two.
Choosing a ladder and lights in the same color, as here, will make them feel like more of a feature. T
his solution
means you don't have to wire in any permanent electrical cables, especially handy if you're likely to change the room's function or layout a few years down the line.
Chris Snook
2. Showcase your wires. A lampshade isn't the only feature of a clip-on light that can be used to decorative effect. These days we're seeing a lot of exposed wiring on Houzz, especially colorful cords. Exposed bulbs are perfect for plugging in and attaching to a hook wherever you like, and they give a room that raw, industrial edge. Choose a brightly colored cord, such as orange, red or yellow, to up the design factor, or stick with inky black for a dramatic, monochrome silhouette.
Etre
3. Boost kitchen lighting.
In a narrow kitchen, or indeed any kitchen, it can be difficult to squeeze in extra built-in lights once a renovation is complete. However, some Anglepoise-style lamps (which can be angled to shine the light in different directions) anchored to the wall can be a good solution for task lighting over the counter. Alternatively, install a high shelf and perch a couple on top (make sure
their bases are heavy enough to prevent any accidents)
or clip them to the edge of the shelf. In either case, it's worth noting where your sockets and switches are to ensure it's feasible.
4. Clip them onto a headboard.
You can't get a simpler or more effective lighting solution than this if you're after neat and discreet reading lamps. These slim-line but sturdy
Jansjö lights
from Ikea are clipped onto either side of the headboard and are flexible enough to be directed accurately to avoid disturbing anyone else. And the little blast of color is a welcome addition, too.
Martins Camisuli Architects
5. String up some twinkle lights. A single string of twinkle lights can transform a boring wall in seconds, and with very little effort or cost. You can simply tack a set of white or multicolored lights to a wall, or around a window or door frame, and presto, it's your own little piece of year-round magic. Twinkle lights are perfect for atmospheric lighting but may need to be paired with something a little stronger for task lighting.
a-sh
6. Keep it playful.
Any sort of clip-on or stick-on light is a natural for a child's bedroom or playroom, as the quirky, unfinished look will fit in well with the general chaos. These fun lights are
Sticky Lamps by Chris Kabel
, available from Droog. As the years pass by and your child wants a more grown-up design, these nonpermanent light fixtures can easily be taken down.
Sara Bates
7. Match the mood. Clip-on metal lights are perfect for this bedroom, which is filled with upcycled goodies. Their industrial, makeshift feel works really well with the rest of the furniture. In such an ever-changing, organic space, it's possible the door-turned-headboard will end up being used for something else, somewhere else, so removable and movable lights are just the ticket. And because they're not permanent, you can be a little bit more adventurous with them, too.
Gaile Guevara
8. Invest in a classic design. This Flos wall lamp has a gigantic adjustable arm, so it can do the job of two separate wall lamps by reaching over both sides of the bed. Designed by Paolo Rizzatto in the 1970s, the painted steel light looks just as fresh today as it did when it was launched, especially with the exposed wiring left to dangle from the huge bracket.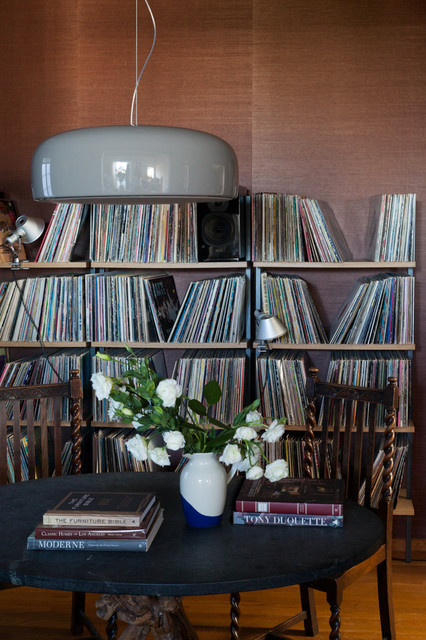 Landed Interiors & Homes
9. Illuminate your collections.
Clip-on lights are a good solution if you're renting, as they won't damage walls or ceilings, which is a definite no-no in most landlords' rule books. Some little lamps, such as these mini
Tolomeo Micro clip lights
by Artemide, can be powerful and provide just as much illumination as built-in versions — handy for shedding light on a growing book or record collection.
10. Use your ceiling as a wall substitute.
This is a clever way to create a pair of bedside lights that would usually need to be hardwired. The designer used the existing ceiling wiring and an additional couple of hooks to create the same effect as wall lights. The colorful cord makes a feature of the trailing wires. (Do bear in mind that you should call on the expertise of a qualified electrician for this one.)
Tell us:
Do you have any quick-fix wall lights in your home? Share your thoughts and photos in the Comments below.
Browse more stories about lighting