11 Colors From the Spice Cabinet
Enrich your home with the luxurious flavors of turmeric, cinnamon, paprika and bay
Need to perk up your palette? Take a peek in the pantry. From saffron yellow and paprika red to nutmeg and cinnamon browns, inspiration is hiding right in the spice jars.
Jennifer Brouwer (Jennifer Brouwer Design Inc)
Turmeric yellows and lush textures radiate luxury in this monochromatic room. Because the colors are kept tone-on-tone, they function as neutrals — a nice change of pace from more traditional beige or gray.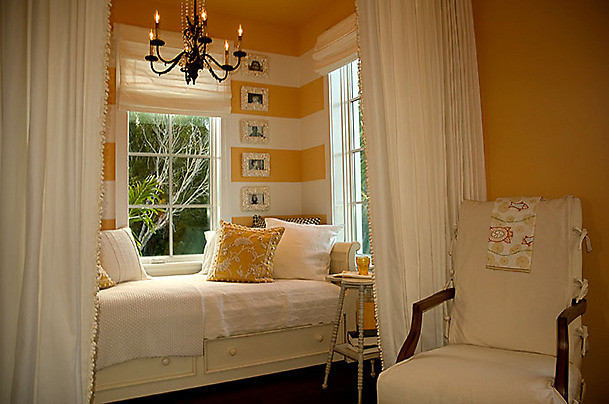 sarahdolce87
If this space were in my house, I don't think I'd ever leave it. Seriously, who could resist the cushy daybed, billowy curtains, rich saffron walls and, of course, that chandelier? Cheery horizontal stripes dress the room down and make it feel even more inviting.
Artistic Designs for Living, Tineke Triggs
What a fab palette for a nursery! Nutmeg and paprika make baby blue look fresh all over again. The stripes and lines echoed between the curtains, pillow and rug are a great touch and really unify the room.
Deep red-brown walls, which make me think of fiery chile powders, warm up this modern, spare space. The drum-style chandelier shade picks up the curtains in the adjacent living area and adds a needed top note of pattern.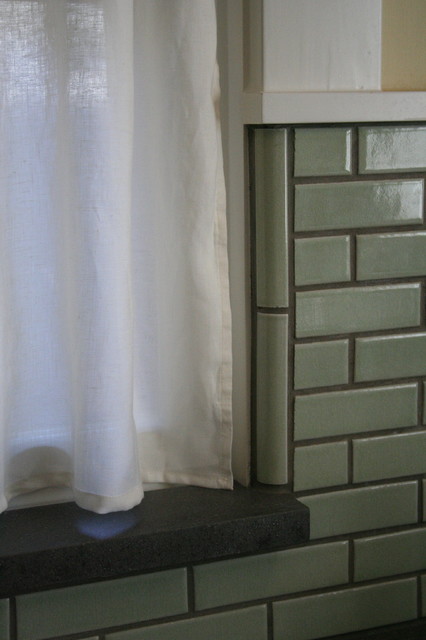 Harvest Architecture, LLC
I tend to fall back on paint as my starting point for color. But these fennel-green tiles, which would be right at home in both a modern- and a vintage-style kitchen, are equally perfect for building a palette.
House + House Architects
This fireplace wall reminds me of a giant cinnamon stick. Put a cup of something warm in my hand, a book in my lap and a dog at my feet, and I'd be ready for the chilliest of winter nights.
Burnham Design
Pale olive on these bedroom walls evokes the dusty hue of a bay leaf. The color calms down the crisp black and bright red, so the room feels wonderfully soothing.
J. Stephens Interiors
Mustard-color cabinetry glows in this Old World-inspired kitchen. The gentle yet bright hue opens up the space. I can only imagine how warm and cozy it looks as the light softens in the evening.
arctangent architecture + design [ aa+d ]
Curry yellow is the last color I would have expected to see in this austere Zen-inspired room, but it works. The strong accent wall pulls the eye straight toward the Buddha that's intended to be the focal point.
It's hard to pull off burgundy without looking dated. This
sumac
color, though, hits all the right notes. The rustic log wall really pops against it, and the warmer wood countertop brings out its brown undertones to keep it from going too purple.
More:
Color Inspiration from the Mediterranean
Color to Try: Tiger Eye