13 Popular Kitchen Storage Ideas and What They Cost
Corner drawers, appliance garages, platter storage and in-counter knife slots are a few details you may not want to leave out
For kitchen remodels a lot of focus goes into what's seen on the surface, and rightly so. Cabinets, appliances, countertops, paint colors — these are the big players that make your kitchen look the way it does. But oftentimes it's the more subtle gestures that will make your space truly functional and efficient.

Pantry systems, pullout shelving, appliance garages, wall-mounted pegboards and more have long been popular kitchen storage ideas on Houzz, because they can take a gorgeous kitchen to the next level. But you might ask, "Yeah, but what's that going to cost me?"

With that in mind, here are 13 kitchen solutions to consider for your remodel or new construction — and how much they might set you back.
Kitchens by Meyer Inc.
1. Pullout platter storage.
Entertaining often means getting out the stepladder to grab an oversize platter from the upper reaches of a cabinet or wall.
Edo Rosenberg of
Kitchens by Meyer
came up with this solution, which integrates a pullout compartment in the end of a kitchen island. It commands a lot of space — it's 30 inches wide and 24 inches deep — but houses large platters at arm's reach in a divided, safe enclosure.
Cost:
Rosenberg says this custom feature cost his client roughly $1,200.
See more serveware storage that'll serve you well
Kayron Brewer, CMKBD / Studio K B
2. Countertop appliance garage.
If you have enough countertop space, tucking away regularly used small appliances, such as a toaster or blender, in a dedicated space behind closed doors will allow you to keep your counter free of clutter and cords. Kayron Brewer of
Studio K B
designed this nifty niche to include an outlet and LED lights so all the small appliances can be used right where they are.
Cost:
Brewer estimates that this appliance garage ran $1,600 to $1,900, including the cabinetry, LED lighting strip, power and labor. However, she points out that the appliance garage was part of a full cabinet and construction package, so it's tricky to price it separately.
See more great storage places for small appliances
Simpson Cabinetry
3. Corner drawers.
Move over, Lazy Susan. You're not the only clever solution for corners anymore. Full-depth corner drawers are helping homeowners get the most out of tricky spaces.
Cost:
Commonly $125 to $225 per drawer (hardware only).
See 10 great ways to use kitchen corners
4. Shallow rollout.
Never let a deep drawer swallow up your holiday cookie cutters or cupcake papers again. This slim rollout hovers above another drawer, sharing the same drawer face and hardware.
Cost:
Jodi Tramontin of
Dura Supreme Cabinetry
shares that the cost of a rollout like this is $200 to $275; the feature must be added at the time you order new cabinets, as the company doesn't offer it as a stand-alone item.
See how to organize your kitchen drawers
5. Rollout drawer for
cleaning supplies
.
How often have you knocked over three bottles of cleaning products stockpiled beneath your kitchen sink to reach the one you wanted in the back? Instead, consider storing them in an easy-to-access steel rollout drawer with optional flexible magnetic organizer compartments for keeping them upright.
This stainless steel system by Dura Supreme has concealed undermount glides and is self-closing. Tramontin says it can be added
to any of the company's cabinets that are 12 to 48 inches wide. Rollouts between 39 and 48 inches wide have a center stile for support.
Cost:
$400 to $1,000 for a new cabinet with one factory-installed 12- to 36-inch wide rollout; $525 to $1,300 for a new cabinet with two rollouts.
Shannon Poe
6. Pullout spice rack.
Spice containers are usually a messy lot, getting knocked over in pantries and stuffed into wall-mounted racks that don't easily accommodate different bottle sizes. Organizing them in a pullout spice rack that fits into your cabinetry will keep them in check.
Pullout spice racks are usually 3 to 12 inches wide and can be installed in base cabinets or upper cabinets. Many homeowners opt for two pullout spice racks to flank a cooktop or install them on opposite sides of a hood for symmetry.
Cost:
About $200, but varies depending on the manufacturer, material finish and size.
See how to add a pullout spice rack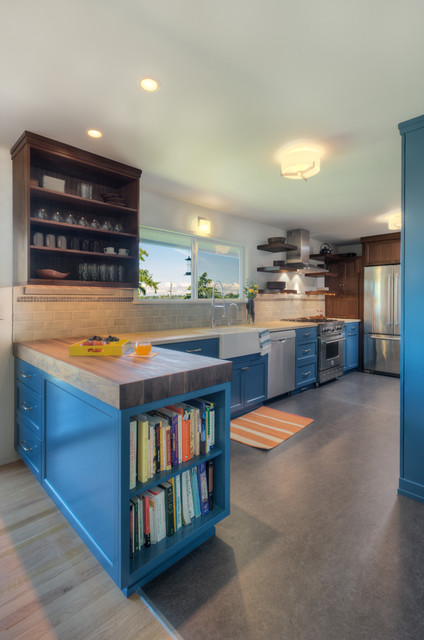 7. End cabinet or island cookbook storage.
The exposed end of a lower cabinet is a great place for sneaking in some cookbook shelf space, as in this example.
Cookbook cabinets are typically 15 to 36 inches wide, Tramontin says. She adds that
almost any cabinet can be used for cookbook storage if you omit or remove the cabinet door and finish the interior.
Cost:
About $300 to $600 for a 36-inch-high wall bookcase cabinet; $600 to $1,200 for a base bookcase cabinet.
See how to get more from your kitchen island
DeVos Custom Woodworking
8. In-counter knife storage.
If you don't like the look of a freestanding knife block but want to keep knives close at hand, consider an in-counter knife slot. Austin, Texas, woodworker Daniel Vos of
DeVos Custom Woodworking
says he custom makes these slots in new wood countertops that he also fabricates.
A drop-in knife block is another option. It offers enclosed storage for knives within the confines of the knife block, which is inset into a kitchen counter or island. An existing piece can be retrofitted to include one, or one can be included in a new project, Vos says.
A custom knife block can be made out of any wood, either contrasting or matching the countertop. Slots for the knives are customized to the client's specifications. (Vos says clients sometimes just send him their knives.) Vos then insets the custom-made block into a slightly smaller hole cut in the countertop, leaving the block overhang resting on the countertop for support. It's raised ¼ to ¾ inch above the countertop level. The knife block configuration is also removable for cleaning.
Cost:
A knife block and associated labor should run around $350. The cost for a knife slot like the one shown here is a $200 upcharge to the cost of a countertop.
See more on knife shopping and storage
Marie Newton, Closets Redefined
9. Walk-in pantry.
A kitchen with a walk-in pantry gets high marks on most folks' dream lists. You just need to have the room. In lieu of a true walk-in, some kitchens have a closet that's often poorly designed with scores of fixed shelves that don't fit larger items, while space is wasted by disorganized smaller items. A professional closet designer or kitchen designer can help optimize your storage capacity and flexibility if you're redoing or adding a pantry during a kitchen remodel.
The stunning pantry in this longtime popular photo on Houzz features a bevy of built-ins and pullout baskets, overhead lighting and an electrical outlet for small appliances. Generously sized at about 40 inches deep and 108 inches wide, the pantry can be closed off from the kitchen with the aid of two pocket doors.
Cost:
Designer Marie Newton of
Closets Redefined
says the cost of this large pantry project totaled about $5,500.
See 11 ways to wake up a walk-in pantry
Tommy Hein Architects
10. Pantry system.
If your kitchen can't accommodate a walk-in pantry, consider a pantry system. Unfolding like origami, a pantry system offers unparalleled organization within a cabinet, so you'll be able to find what you're looking for quickly and easily. Many systems are available, with different configurations, heights and shelving options.
What I like about this one is that it's rather simple and doesn't have a lot of swinging components. Because its interior is oriented vertically and not horizontally, as in a traditional pantry, the visual barriers are eliminated and it's easy to see items from top to bottom.
Cost:
Varies, as different manufacturers offer an array configurations and sizes.
Designed by
Jensen Design
for
Tommy Hein Architects
, the system (by
Häfele
) seen here cost about $2,500 installed.
See 7 steps to pantry perfection
Thompson Custom Homes
11. Library ladder.
While a kitchen with lots of storage is usually seen as a good thing, often the storage is above our heads and out of reach. A kitchen library ladder may be your stairway to organizational bliss. Made of wood or metal, traditional or contemporary, a library ladder can blend with almost any kitchen style. Ladders are either a removable hook type or a permanently attached rolling style. Many styles can even be pushed against the wall when not in use so they don't become a tripping hazard.
Cost:
About $2,500 installed.
See more on adding a library ladder
Davenport Building Solutions
12. Backsplash storage.
While many folks see a backsplash as an aesthetic part of their kitchen design, it can also be useful for easy-access storage of utensils, knives, cookware and dishes.
Hanging bars, magnetic strips, shelving and even pot-filling faucets can help make the most of your kitchen backsplash.
Cost:
About $60 per hour for labor plus the cost of materials and systems.
See how to trick out your kitchen backsplash for storage and more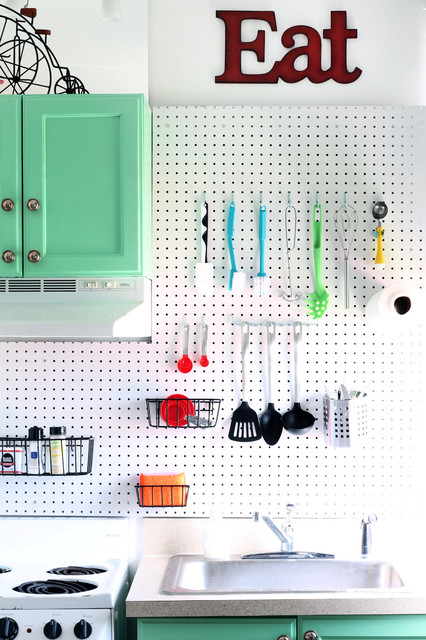 Liv By Design Interiors
13. Wall-mounted pegboard.
Many homeowners have small kitchens with limited cabinet space. An unused wall, or even a portion of it, can be transformed into an efficient storage space. Wall-mounted pegboard protrudes minimally and is less likely to interfere with cabinet or refrigerator door swings. Pegboard is also a great addition to a pantry space. You can cover as much or as little of the wall in pegboard as you desire — you can even customize the shape of the pegboard. It's endlessly flexible, because you can add, subtract or move the hooks around as you please to hang pots and pans or small kitchen utensils.
Cost:
A 4-foot by 4-foot finished and installed pegboard (without hooks) should run about $75 at most. Plan to spend $10 to $40 per sheet of pegboard, depending on the thickness and size.
See more on boosting your kitchen storage with pegboard on a wall
More:
19 Kitchen Projects Everyone Should Know About
The 15 Most Popular Kitchen Storage Ideas on Houzz