2016 U.S. Houzz Kitchen Trends Study
Findings from a survey of 2,430 U.S. homeowners on Houzz about their recent or planned kitchen renovation projects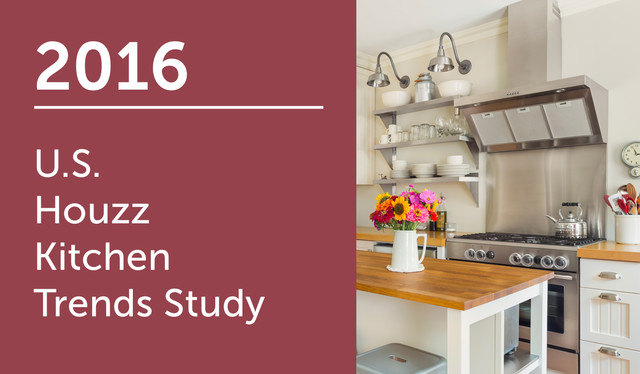 Houzz Research
Kitchens serve multiple purposes
: Renovating homeowners not only cook but entertain, socialize, and do work/homework there, with nearly two-thirds spending three or more hours per day.
It's about flow
: Half report that kitchens are more open to other indoor spaces as a result of updates; 65 percent of renovated kitchens are open to outdoor spaces.
Expanding kitchen features
: Many are adding dining tables, chandeliers, TVs and desks/workspaces, as well as wine refrigerators and built-in stations for coffee/tea.
New kitchens, new styles
: Three in four homeowners are changing the style of their kitchen during updates, with many adopting transitional or contemporary styles.
Top project trigger - reaching the breaking point
: 43 percent of homeowners can no longer stand their old kitchen, up from just 29 percent last year.
Hiring on the rise
: Even more homeowners hired a professional in 2015 relative to 2014.
Download the Full Report
See Related Stories
: