7 Backyard Sheds Built With Love
The Hardworking Home: Says one homeowner and shed builder, 'I am amazed at the peace and joy I feel when working in my garden shed'
After asking you to show us
your hardworking backyard sheds
, we discovered that not only are homeowners adding backyard sheds, studios and greenhouses; they're also designing and building them from scratch, often using salvaged or repurposed materials. Besides creative material choices, what makes these handmade structures unique is that their owners have crafted them specifically to their needs. And they know down to the single nail or pane of glass how the project came together.
These seven sheds were built differently and for different reasons, but each one came from the homeowner's imagination. Most homeowners were responsible for every step of the process, from concept to construction.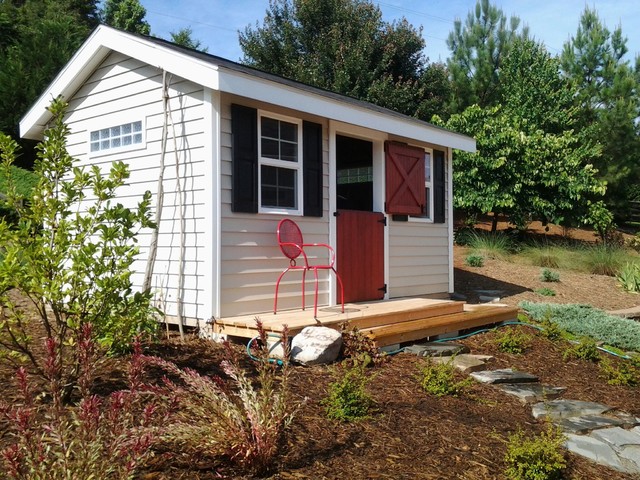 1. Well-Equipped Backyard Potting ShedSize:
140 square feet (13 square meters)
Where it is:
In the backyard of a sloping property, screening the view of a neighbor's house
Hardworking feature:
A built-in grate and plastic tub catch any soil that spills on the 5-foot-long potting bench.
Janice Manning added a garden shed to her South Carolina backyard when she outgrew her potting bench. She designed the shed to match the roofline of their house, and her husband built it; they finished it with siding and trim in the same color as their house, per homeowner's association requirements.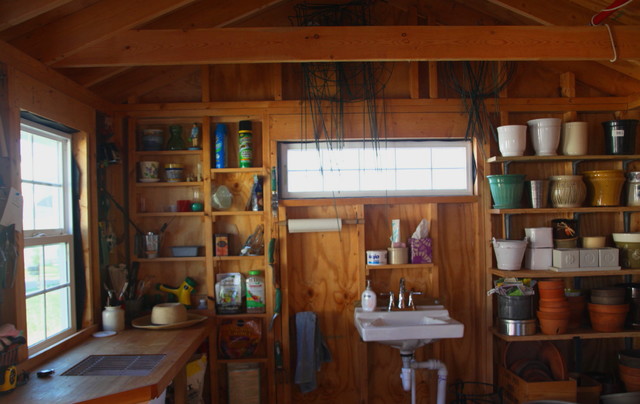 Inside she has plenty of room for repotting houseplants and storing gardening supplies and outdoor cushions. The 5-foot-long potting bench has a grate and tray to catch extra soil.

Because of the cost, Manning decided to forgo electricity in favor of a long extension cord from the house, and a flashlight. But she did add a sink and running water. "Among all many good things about my shed, my favorite is the sink, as it is so handy to have running water in there," she says. "I am amazed at the peace and joy I feel when working in my garden shed."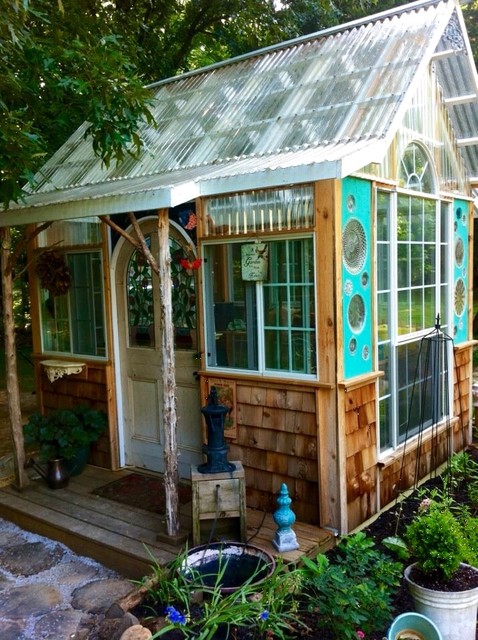 2. Greenhouse With

Artfully Collected FeaturesSize:
96 square feet (9 square meters)
Where it is:
Near the woods at the back of a property behind a pond; it f
aces southwest and gets a lot of sun.
Hardworking feature:
Vintage glass plates built into the siding add decorative interest and let in more light.
Anne Krekelberg's husband, Bob, built her this colorful greenhouse using recycled windows, plates and shingles. She bought the stained glass door at a local antiques store.
This isn't the only shed on the property; she uses this one only for gardening. "In the winter I use it to store potted outdoor plants, like hostas and ferns. In the spring it's filled with seedlings and cuttings," she says. They've wired the greenhouse so that she can plug in a grow light if needed. There's a fan but no heater.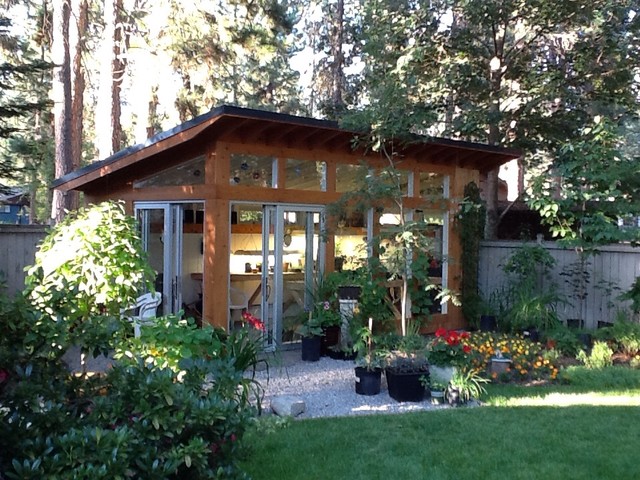 3. Sliding Doors Frame a Shed in Coeur d'Alene, Idaho
Size:
200 square feet (18
½ square meters)
Where it is:
On the property's north side, with
south-facing windows to take advantage of solar gain; the roof's overhang shades the windows in summer.
Hardworking feature:
All of the glazing in the shed came from old sliding glass doors.
About three years ago, Mike and Kathie Cole built their backyard shed to grow annuals, propagate perennials and store pots after they had collected enough salvaged sliding glass doors for all the doors and windows they planned to include. They laid down a gravel floor and included grow lights and a heater. "It could be snowing and cold outside, and we're inside surrounded with color," Mike
says. Because of this, the shed also makes a nice place to just hang out in.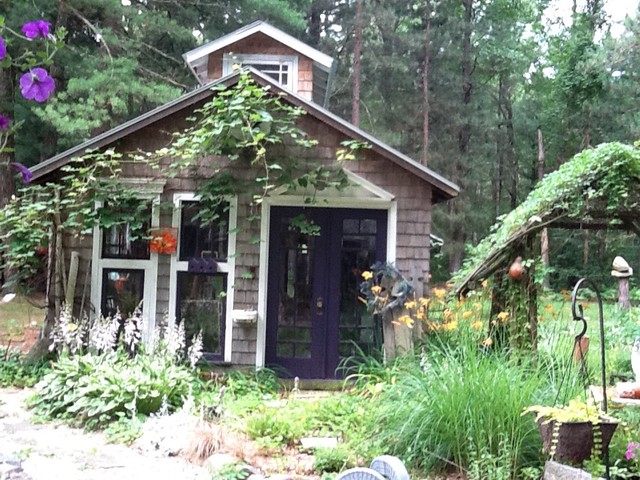 4. Michigan Garage Turned Garden Getaway
Size:
288 square feet (27 square meters)
Where it is:
On a sprawling riverfront property in Michigan
Hardworking feature:
Instead of tearing down an unused garage, these homeowners gave it new life as a garden-shed getaway.
Judi Duncan Yantiss took the opportunity during her home's renovation to revive an unused garage that came with her property.
She saved windows from a cabin being renovated in their area and installed them around the shed's perimeter. A contractor raised the foundation and installed a cupola on top. Since the shed is so close to the house, she wanted it to look like the home, and installed every single cedar shake with her husband. "This, I guess, is the playhouse I never had," she says.
Now she can read or relax on a hammock she has hung inside or even have guests spend the night. "Time means nothing and escapes me in this familiar structure. Minutes and hours pass, and I am totally in that moment more than at any other time," says Yantiss.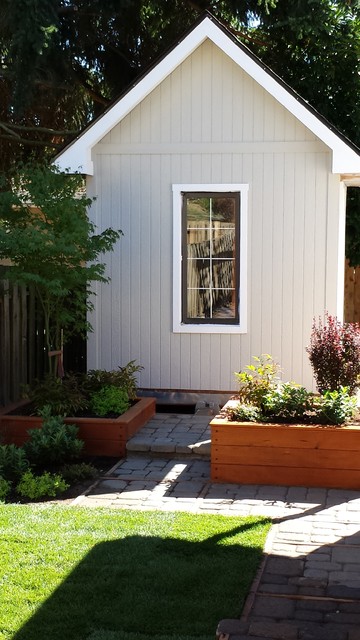 5. Tasteful Storage in Washington
Size:
96 square feet (9 square meters); it's 8 feet by 12 feet to take advantage of building material standard lengths.
Where it is:
Nestled in the yard's rear corner. The dining room looks directly to it; it screens a neighbor's house.
Hardworking feature:
Homeowner Grant
DeBruin watched videos online to help him build this shed entirely by hand, without the help of even a nail gun.
DeBruin added this farmhouse-style shed to his Seattle-area backyard to store seasonal home decor and other home items that his home's existing storage couldn't hold. He spent time thinking about how the shed would look and also about the landscaping around it. "I wanted it to hide the foundation so it looked more rooted into the landscape," says DeBruin.
The landscaping around the shed was inspired by what he saw in Paris. "I was eyeing these small boxwood gardens tucked away behind the street, where people relaxed with a glass of wine, where it feels like you are a million miles away from the real world," he says.
De Bilt
6. Charming Cottage in a Los Angeles BackyardSize:
108 square feet (10 square meters)
Where it is:
In the back corner of the backyard, with a view to the main house and to the fountain across the lawn
Hardworking feature:
This shed serves as a potting shed, a drafting studio and sometimes a guesthouse.
Interior designer Dominique Lobjois approached building her backyard shed much like she would a new home, including getting a building permit. What she intended to be a backyard potting shed has evolved to also be a workspace and a space for
overnight guests. Unexpectedly, this shed turned out to be the focal point of the yard. Everyone wants to hang out in it. "It is like a playhouse for adults," she says.
De Bilt
Lobjois built the shed at the same time she was remodeling her house, and the door and windows are repurposed from that project. Cedar paneling warms the shed up, even in sunny Los Angeles. Running water, electricity and insulation enable Lobjois to use the shed year-round, day or night.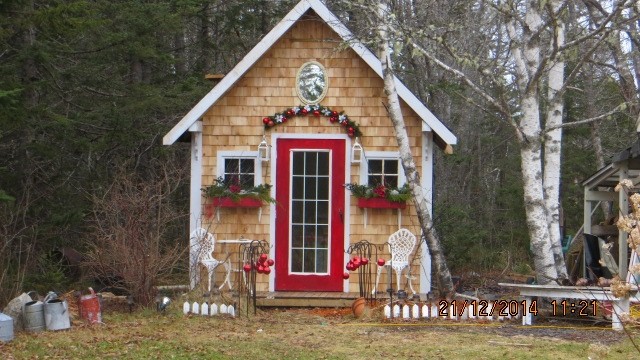 7. Charming Welcome to a Nova Scotia Home
Size:
120 square feet (11 square meters)
Where it is:
Along a 600-foot-long driveway leading up to the house; this is the first building visitors encounter.
Hardworking feature:
Most of the materials used for the shed would have ended up in the dump if the homeowner hadn't saved them.
This homeowner built a shed to temporarily store everything from her guest cottage while it was being rebuilt. The shed is the first building visitors encounter along a long driveway, so she wanted it to look good. As a seller for a local building company, with a husband as an architect, she was able to incorporate materials that would have been thrown out to create a well-constructed and well-designed shed.
Antique windows and fence board make up the home's exterior, and there is deck flooring inside. The homeowner incorporated an oval mirror above the doorway to echo a window in a boathouse near the shed on the property. Once the guesthouse's renovation is done, she says, she will empty out the shed to use it again — maybe as a garden shed or teahouse.
More:
How to Add a Backyard Shed for Storage or Living
See more creative backyard sheds from Houzzers
Browse sheds in the Houzz Shop